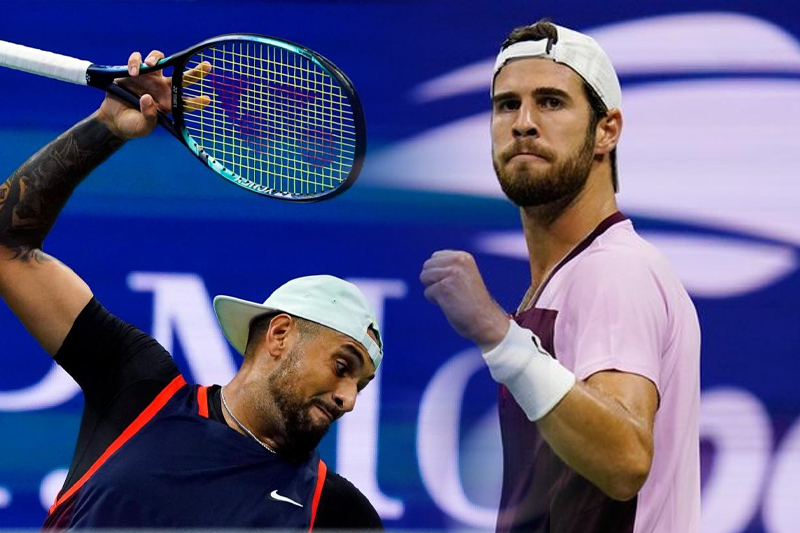 kyrgios sent out of us open by khachanov in nail biting quarter final
Kyrgios sent out of US Open by Khachanov in nail biting quarter final
Karen Khachanov was in the moment, receiving the crowd's applause with open arms after confirming his place in the semi final of US Open, his first ever Grand Slam semi final. Also stood on the court was Australian tennis Nick Kyrgios who was taking out his frustration on rackets after losing out to his opponent by 7-5, 4-6, 7-5, 6-7 (3), 6-4 in a worthy nail biting quarter final match of US Open. The match that started at Arthur Ashe Stadium on Tuesday night, concluded after more than three and a half hours at around 1 am on Wednesday.
"It's just devastating. Like, it's heartbreaking," said Kyrgios, 27 year old player from Australia who was also the runner up at Wimbledon in July. "Pretty much every other tournament during the year is a waste of time, really. You should just run up and show up at a Grand Slam. That's what you're remembered by."
Keep Reading
The crowd was cheering for Kyrgios, a player who is no stranger to controversies on court. "I was prepared. I was expecting that the crowd would be more for him, that he was the favorite in their eyes," said the No. 27 seeded Khachanov who has been in two major quarterfinals before this one against No. 23 Kyrgios, but this is the first one that he has won.
Russian player Khachanov is now set to face No. 5 Caper Ruud in semi final on Friday to reserve the seat in final of US Open. "I'm really proud of myself," Khachanov said. "I was really focused from the beginning to the end." Khachanov was not allowed to play at Wimbledon tournament this year after the All England Club had banned all players from Russia and Belarus due to invasion of Ukraine.
In quarter finals on Wednesday, No. 3 Carlos Alcaraz will face No. 11 Jannik Sinner, and No. 9 Andrey Rublev will be playing against No. 22 Frances Tiafoe.