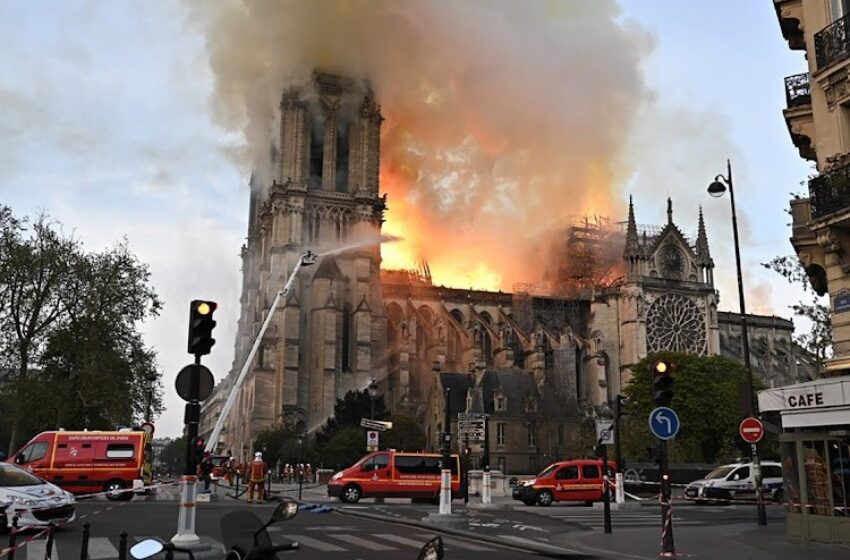 the restoration of the smoke damaged stained glass of notre dame begins
The restoration of the smoke-damaged stained glass of Notre Dame begins
Even though a large fire caused considerable damage to the structure of Notre Dame de Paris, the majority of the medieval cathedral's stained glass was able to resist the heat and flames of the blaze.
However, the windows had been extensively polluted with smoke and soot, which barred the light from the outside and disguised the variety of hues in the glass that was 170 years old.
Eight glass manufacturers from France have started the tedious process of cleaning and restoring 39 high windows located in the medieval cathedral's nave, choir, transept, and sacristy. This comes more than three years after the terrible fire that destroyed the cathedral.
Flavie Serriere The head of the namesake stained-glass firm in Troyes, which is located southwest of Paris, Vincent-Petit, has been tasked with the responsibility of restoring 22 windows.
The procedure of cleaning glass entails carefully wiping the surface with cotton that has been soaked in water and ethanol. This is a delicate and labor-intensive operation that must be repeated in order to collect deposits without damaging the window.
Keep Reading
She remarked, "There is a huge cleaning phase, to wash out both the dust from the blaze and the filth that resulted from human breath, as well as candle soot, so that we can put the windows back into position and give Notre Dame back its full brightness."
Since the fire in April 2019 that completely destroyed the cathedral's roof and caused its spire to tumble through the vaults below, the building has been closed for repairs.
The cathedral, which was built in the 12th century, is scheduled to play home to the Olympic Games in 2024, thus the goal is to have it reopened before then.
The architect Eugene Viollet-le-Duc, who also designed the 96-meter (315-foot) tower, was responsible for the creation of the stained-glass windows at Notre Dame.
In Cologne, Germany's Cologne Cathedral, there is a workshop that is contributing to the reconstruction effort by restoring the stained glass of four high windows.