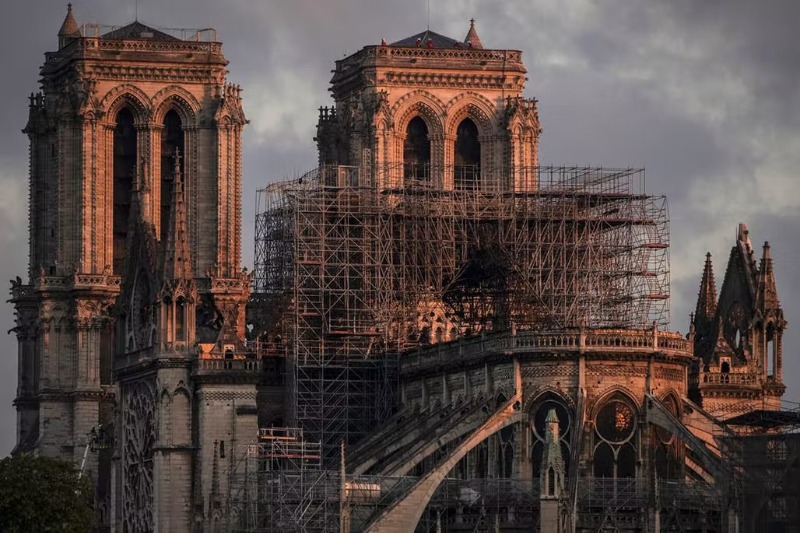 french culture minister notre dame will reopen in 2024
French culture minister: Notre Dame will reopen in 2024
Rima Abdul Malak, the Minister of Culture for France, announced on Thursday, July 28, that the Notre Dame cathedral in Paris is on schedule to reopen to worshippers and the general public in 2024. This comes more than three years after a huge fire destroyed the church's roof.
She stated that the cleanup portion of the restoration project had been completed, which would pave the way for reconstruction work to begin by the end of the summer.
After the fire in 2019 destroyed the roof of Notre Dame and brought its spire crashing down, much to the sorrow of onlookers and people watching in France and around the world on television and social media, the cathedral has been closed for the duration of the repair process.
Abdul Malak made these comments while she was touring the construction site: "We are optimistic that 2024 will be the year a substantial part of this work is done, the year of the re-opening of the cathedral to worshippers and to the public," she stated.
Related Posts
Soon after the fire in April of 2019, President Emmanuel Macron said that the cathedral would be restored. He later pledged that the cathedral will be reopened to worshippers by 2024, which is the year that France would host the Olympic Games. The cathedral dates back to the 12th century.
The cathedral will be brought back to its original appearance, which will include the spire that was constructed by architect Eugene Viollet-le-Duc in the middle of the 1800s and for which new timber will be used. The spire will measure 96 meters (315 feet) in height.
After the end of the safety phase in 2021 and the work to clean up the interior of the cathedral, the reconstruction will mostly consist of replacing the wooden roof structure, the vaults, and the spire. Other work will include repairing any damage to the outside of the cathedral.