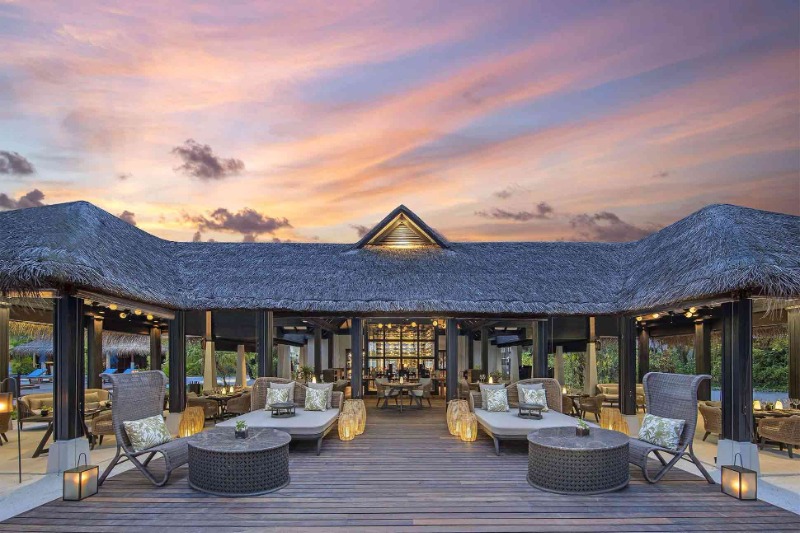 5 private islands in asia for luxury isolation
5 private islands in Asia for luxury isolation
Consider a world in which arriving at your destination erases all memories of your travels and replaces them with pure, unadulterated leisure.
That's no easy task, considering how difficult it is to plan international trips right now due to things like airline delays, cancellations, and the general chaos that permeates airports.
In the modern conception of tourism, solitude and expansiveness are paramount, and nothing more so than private islands.
Separation from the rest of the world, in a beautiful setting. Somewhere where you, the discreet staff, and a select group of other guests (most of whom are content to remain in their own ultra-luxurious villas or retreats) are the only ones present.
We've compiled a list of the top five places to get away from it all.
BAWAH RESERVE, INDONESIA
Bawah Reserve, an eco-resort in the Anambas Islands, will reopen in September after being closed for two years due to.
Bawah, which is only 160 nautical miles from Singapore, has become a popular destination for Singaporeans looking for a luxurious getaway without having to travel too far. Getting there takes a ferry ride to Batam and then a seaplane ride of about 80 minutes.
Tented garden suites, overwater bungalows, and villas are all available upon arrival; each one is designed to blend in with its natural surroundings, which include blue waves lapping pristine beaches, trees laden with tropical fruit, and a riot of color from the jungle's vegetation.
The Elang Private Residence, designed by architect Sim Boon Yang, will reopen with six additional cliffside cabins. They can accommodate as many as 20 guests, making them ideal for large families or groups of friends in search of the ultimate vacation.
The main island is only a three-minute boat trip away, and it has everything else you could want, including a marine reserve, all the sustainable luxury you could want, and 100 hectares of woodland for walking and spectacular sunrise views.
BANWA, PHILIPPINES
Banwa, located in the Sulu Sea off the east coast of Palawan in the Philippines, is another secluded retreat. The incredible variety of plant and animal life on this tiny island, as well as the extraordinary marine life in the marine preserve that surrounds it, are the main draws. Banwa has also set up the Aquos Foundation to safeguard owls, hawksbill turtles, and other wildlife.
Even seasoned travelers are amazed by the coral reefs and marine life they encounter whether kayaking, paddleboarding, diving, or snorkeling. A firefly watching tour in an underground river is just one of the numerous one-of-a-kind experiences available to guests once they return to dry land on the six-hectare island.
Each of the six beachfront villas can accommodate two to eight people in the lap of barefoot luxury thanks to their private infinity pools, jacuzzi decks, alfresco dining salas, and other amenities. Organic dishes prepared with seasonal ingredients collected fresh that morning will be served.
To get there from Manila, you'll need to take a seaplane or helicopter transfer, unless you happen to have your own set of wings.
Related Posts
KOH RANG NOI, THAILAND
Koh Rang Noi may be only 6 miles from Royal Phuket Marina, yet it may as well be on another planet.
This ten-acre tropical island paradise is the perfect place for a buy-out, and its three spacious villas are also available for rent separately for larger gatherings of friends and family.
After receiving a refreshing coconut and a cool towel, you will make your way to the Guest Villa, Upper Villa, or Lower Villa via the floating pier. Because of its seven bedrooms and two baths for the master, the Upper Villa appeals to us. The hotel features a 33-meter pool, a hot tub for 20, and a theater with seating for 43 people and thousands of movies.
There are seven treatment rooms at your spa, a fully-equipped gym, and a huge patio with a bar and a view of the sunset over Phi Phi Island. Use their jet skis, kayaks, speedboats, and (if you're feeling extravagant) 56- or 70-foot luxury yacht to get some fresh air and exercise when you get bored of lounging on land. Dozens of elephants are scattered across the grounds, although all of them are only sculptures in line with the Thai theme.
COMO LAUCALA ISLAND, FIJI
The fact that celebrities like Leonardo DiCaprio, Oprah Winfrey, Harrison Ford, and Ellen DeGeneres have stayed on your private island before should give you some idea of its prestige. To follow in their footsteps on the pristine white sands of COMO Laucala Island, one must first fly to Nadi, the capital of Fiji, and then board the resort's private plane. You may even just take your own private aircraft, as they have their very own beautiful landing strip.
As you approach the island's 12 square kilometers of land, the lush, dark green forest that covers the island gives way to exquisite shorelines and a massive reef that completely surrounds it, alive with life in the unspoiled Melanesian environment.
A trail connects all twenty-five homes, and buggies are also available. All have sea views and are built using traditional methods and materials, such as sago palm thatch roofs and beautiful jasmine and frangipani hedges.
It's to be expected that a COMO resort would prioritize both health and delicious food. Two bars and three restaurants at COMO Shambhala use the island's abundant harvest, as well as meat and eggs from the resort's own cattle and poultry farm, to prepare healthy, flavorful dishes.
Some of the activities that can entice you away from your luxurious, secluded lodgings include a world-class golf course, a wide variety of stylish boats and yachts, excellent dive spots, and horseback riding. The Delana Residence, with its 11,000 square feet and capacity for six privileged visitors, is the finest option.
CHEVAL BLANC RANDHELI, THE MALDIVES
The Maldives, where you may choose from hundreds of atolls sprinkled through the warm turquoise waters of The Indian Ocean, is an essential part of any list of the world's finest private islands. There aren't many places that can compete with the modest, faultless elegance of Cheval Blanc Randheli, and once you're there, their own island is the ultimate in luxury retreats.
You will find a four-bedroom villa adorned with unique artwork and furnishings upon arriving at your private jetty on the hectare-sized island. As the sun moves across the sky, the white and blue tones of your 25-meter pool stand out more and more, culminating in breathtaking sunsets that are best enjoyed with a drink in hand from your bar. With any luck, you'll have at least one musically talented guest, in which case a grand piano would be a nice addition to the decor.

The land-based amenities at this resort include a spa with treatment rooms, a cinema, and a fitness center, as well as a team of "Ambassadeurs" who are available to cater to your every need; LVMH, the French luxury conglomerate, owns the resort. In addition to the French influence, the resort's five restaurants and your personal team of chefs provide dining options unlike any other in the Maldives.