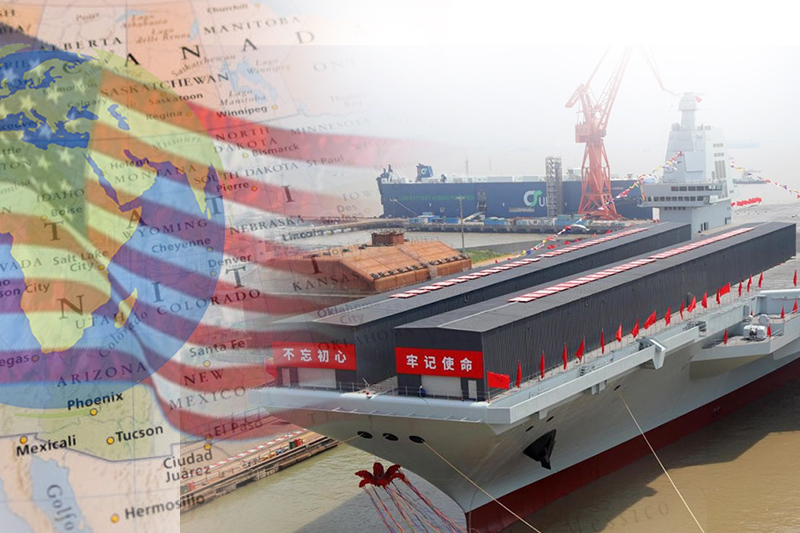 chinas new fujian aircraft carrier will threaten us hegemony
China's new Fujian aircraft carrier will threaten US hegemony
The maiden voyage of China's largest aircraft carrier, the first of its kind to be entirely domestically planned and constructed, took place in June amid great hoopla. When it eventually enters service, the new ship will be the most technologically advanced vessel in the People's Liberation Army Navy.
The new aircraft carrier, named the Fujian, is considered by some as a defiant statement of power at a time when cross-strait tensions have grown.
The Liaoning, a repaired Soviet ship purchased from Ukraine as a partially completed wreck, and the Shandong, the first ship built in China based on the Liaoning, will be joined in service by the Fujian.
Given the testing and sea trials need to be completed, it is not certain when the Fujian will be put into service. In order to become proficient in its new technology and capabilities, the deck and aircrew will need more time.
As a result, it is not out of the question that the ship will be operationally ready in three years. However, there is no doubt that Fujian would change the balance of power in Asia, particularly in the East and South China Seas.
To date, China's navy is the greatest in terms of active ships, thanks to two decades of significant modernization.
Related Posts
As a "blue-water" navy, the U.S. Navy's peacetime prestige will be enhanced by the addition of a larger aircraft carrier. For humanitarian aid or non-combatant evacuations, it might be deployed as a floating base in the case of an international crisis.
With territorial disputes in regional waters, it might also be utilized to project hard power and use coercive techniques.
There are fewer aircraft carriers in China than in the United States, though. The U.S. Navy possesses 11 nuclear-powered aircraft carriers, including one in Japan and four on the west coast of the United States, which gives it a global reach.
Carriers have been deployed by the United States since World War II, and the country has accumulated nearly 90 years of carrier-related operational experience.
However, the first Gerald R Ford-class carrier has been unable to reach combat readiness.
Due to its electromagnetic catapult aircraft launch technology, the Fujian will have the ability to launch more planes at once, with fewer delays between launches, and it will be less restricted in terms of weight and type of aircraft that may be launched.
Fujian has three catapults, thus it can theoretically launch two planes at once and a third afterward. Four catapults are standard on a conventional US Navy carrier, however they are mostly powered by steam.
They are lighter, more compact, consume less room and energy, and recharge more quickly between launches with electromagnetic catapult devices. As a relatively new technology, China may confront similar difficulties to the US Navy in completely developing this system, such as reliability.
The Xian KJ-600, an airborne early warning aircraft with a strong radar that might considerably increase China's long-range airspace and marine surveillance capabilities, can also be operated by China off the Fujian. There are some similarities between this aircraft and the Northrop Grumman E-2D Hawkeye of the US Navy and a more up-to-date E-2C of the Republic of Singapore Air Force.
There are also reports that China is working on an electronic assault variant of the Shenyang J-15 "Flying Shark" fighter jet, which may be used to disrupt or target enemy radars, communications, and electronic systems; as well as a next generation carrier fighter based on the Shenyang FC-31 design.
Cross-strait tensions are anticipated to rise as a result of this buildup in military capability.
Even if the United States maintains a policy of "strategic ambiguity" on Taiwan, commentators are still considering how the new aircraft carrier might be utilized in the event of a conflict.
Aircraft carriers like the Fujian, which might be deployed to establish air superiority over key maritime chokepoints such as the Miyako Straits or the Bashi Channel, have been criticized by some critics. In this way, China's submarines would be able to "break out" of the confines of the Western Pacific Ocean.
Long-range bombers might be complemented by China's carriers and their aboard aircraft, which could serve as a base from which short-range fighter jets could push combat operations west.
Since the Liaoning was commissioned in 2012, China has made significant progress in aircraft carriers. China's burgeoning navy, which now includes the Fujian, will put further pressure on the United States to relinquish its regional hegemony.
If China does really build more advanced carriers and possibly even develop its own nuclear-powered ships in the future, this will be worth watching closely.