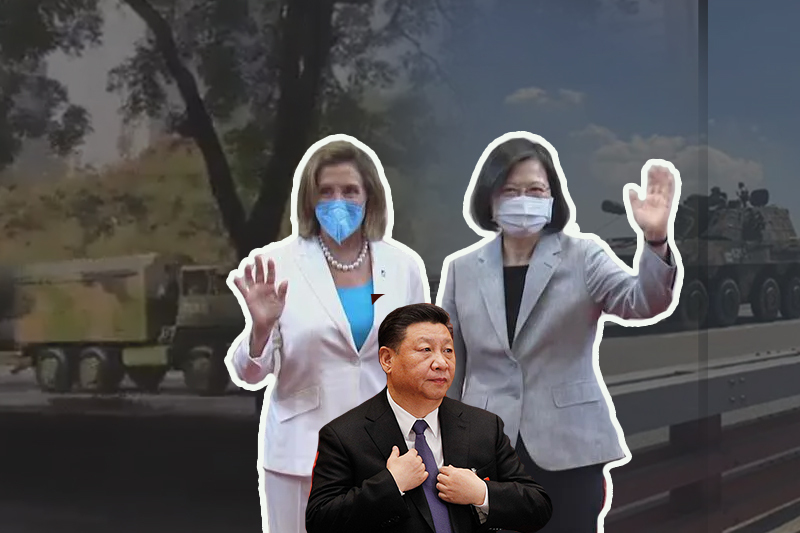 pelosi's "pledge" to support taiwan triggers china's aggression
Pelosi's "pledge" to support Taiwan triggers China's aggression
After much speculations, US House Speaker Nancy Pelosi arrived in Taiwan on late Tuesday, as part of her high profile Asia visit. With this she has become the highest ranking official of United States to have visited the independent island, claimed by China, in 25 years. Beijing is evidently not happy and has initiated military drills in the waters around the self-ruled island as an indication of retaliation. The move by Pelosi to visit Taiwan, un-declared and quite surprising, is further going to escalate the already tense relations between Washington and Beijing.
Pelosi met with Taiwan's President Tsai Ing-wen, who presented the Democrat from California with the Order of Propitious Clouds with Special Grand Cordon, a civilian order of the highest rank. "Speaker Pelosi is truly one of Taiwan's most devoted friends," Tsai said at a ceremony on Wednesday after Pelosi addressed Taiwan's parliament. "We are truly grateful to you for making this visit to Taiwan to showcase the U.S. Congress's staunch support for Taiwan."
Pledge of America's solidarity with Taiwan
In the historic meeting with Taiwanese President, Pelosi pledged America's "crucial solidarity" with Taiwan, supporting the decision by island country to not bow down to China's military threats. "It's really important for the message to be clear .. [the US] is committed to the security of Taiwan … but it's about our shared values of democracy and freedom and how Taiwan has been an example to the world … Whether there are insecurities of the president of China relating to his own political situation I don't know."
Keep Reading
Celebrating Taiwan's democracy, Pelosi said, "Today the world faces a choice between democracy and autocracy. America's determination to preserve democracy here in Taiwan and around the world remains ironclad, and we are grateful to the partnership of the people of Taiwan in this mission."
China is furious
Taiwan's visit by Pelosi has not sit well with Beijing, specially at a time when it is amplifying all its efforts to assert its control over the independent island country citing it as China's territory. Washington and Beijing have not been on cordial terms since President Biden took the office, and Pelosi's visit has just complicated the situation more.
China has announced of launching military drills, joint air and sea drills as well as live fire exercise. These will continue from Thursday to Saturday, in response of Pelosi's Taiwan visit. Taiwan's defence ministry has said "the live-fire drills around the democratic island this week demonstrated Beijing's intention to destroy regional peace and stability." It has accused China of violating international law by planning to breach sovereign space of Taiwan.
Beijing also summoned the US Ambassador to China on Tuesday, with agenda to rebuke him over Pelosi's visit to Taiwan.
"The visit represents a serious violation that seriously infringes upon China's sovereignty and territorial integrity," the Chinese Foreign Ministry said in a statement Tuesday after Pelosi arrived in Taipei. "These moves, like playing with fire, are extremely dangerous. Those who play with fire will perish by it," it warned.