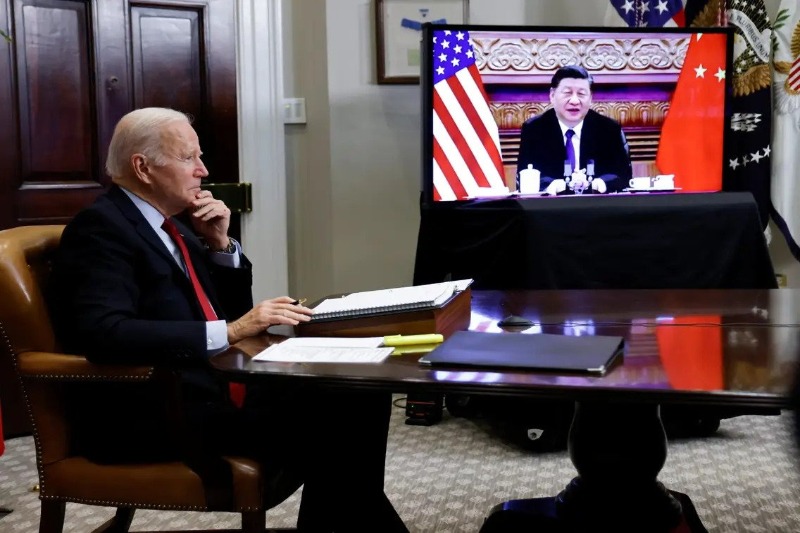 xi cautions biden not to play with fire over taiwan
Xi cautions Biden not to 'play with fire' over Taiwan
During a call with US President Joe Biden on Thursday, July 28, Chinese leader Xi Jinping expressed Beijing's concerns regarding the possibility of US House Speaker Nancy Pelosi traveling to Taiwan, a territory that China claims as its own. Xi Jinping warned against "playing with fire" in regards to Taiwan.
During their fifth call as leaders, Xi told President Biden, according to a quote provided by China's foreign ministry, "Those who play with fire will perish by it." It is hoped that the United States will see things clearly regarding this matter.
Xi highlighted that China staunchly opposes Taiwanese independence as well as involvement from third parties and suggested that the United States should adhere to the "one-China concept."
According to the White House, Biden conveyed to Xi that the United States' position toward Taiwan has not changed and that the United States vehemently opposes any unilateral actions to change the status quo or threaten peace and stability across the Taiwan Strait.
The White House stated that the long-scheduled call was an example of the administration's attempts to strengthen lines of communication with China and "responsibly handle our differences."
It has been particularly concerned with bringing the temperature down in Taiwan.
Some commentators are concerned that such a gesture during a period of strained relations between the United States and Beijing may spark a serious crisis and even unintentional conflicts. A visit by the House speaker would be a significant, though not unusual, demonstration of US support for the island.
In order to forestall something like this from happening, according to Scott Kennedy, a China specialist at the Center for Strategic and International Studies in Washington, connections with leaders are absolutely necessary.
Related Posts
"One hopes they've done enough to avoid a collision in the near term, but it's clear there needs to be much more frequent and in-depth communication," he added. "One hopes they've done enough to avoid a collision in the near term."
A top official from the United States has stated that President Biden and President Xi of China have discussed the prospect of holding their first face-to-face meeting as leaders and have directed their teams to investigate this option.
The official stated that Biden emphasized how important it was to keep the lines of communication open with Taiwan and that the two also discussed areas where there was potential to enhance collaboration. These areas included combating climate change, ensuring health security, and narcotics prevention.
While focusing on Taiwan, President Xi Jinping emphasized the importance of maintaining communication between the world's two largest economies regarding macroeconomic policies, global supply chains, and the protection of global food and energy security, according to a readout provided by China.
The senior official from the United States also highlighted how important it is to coordinate macroeconomic policy.
Beijing has been increasingly concerned about the potential consequences of Pelosi, another Democrat, visiting Taiwan, and has made increasingly dire warnings in response. Xi is committed to bringing Taiwan under Beijing's rule by any means necessary, including the use of force.
China has not provided many hints on the exact responses it may make in the event that Pelosi goes on the trip, which she has not yet confirmed.
The official from the United States told reporters that Xi has previously used language that was comparable to what he said regarding Taiwan, and that the two sides acknowledged the existence of opposing viewpoints that go back forty years. "The talk between the two regarding Taiwan was straight and it was honest," the official said, while declining to disclose more specific specifics about Biden's message to Xi. "The conversation between the two concerning Taiwan was direct and it was honest," the official added.
The call went on for more than two hours. Officials from the United States had previously stated that it will cover a wide range of topics, one of which would be Russia's invasion of Ukraine, which China has not yet condemned.
The United States government adheres to a "one-China policy" that gives diplomatic recognition to Beijing but not to Taipei. However, it is required by US law to assist Taiwan, which is democratically governed, with the resources to defend itself, and pressure in Congress has been mounting for more explicit support.
The fact that Xi is running for an unprecedented third term in office this year has led some experts to the conclusion that he has a vested interest in averting escalation. Some people believe that elevating the Taiwan issue could provide President Xi with a domestic distraction from the deteriorating economy in China.
When questioned by Reuters over the call, Taiwan's representative office in Washington stated that they were thankful to Biden "for highlighting the importance of our shared interest in peace and stability in the Taiwan Strait."
Economic challenges have been a challenge for both the United States government and the Chinese government in Beijing. The economy of China, which is worth an estimated $18 trillion, has been hurt by the country's stringent COVID laws and complete metropolitan lockdowns, whilst the economy of the United States is struggling with soaring inflation amidst fears of a recession.
On Thursday, Chinese state media said that China would make every effort to achieve the greatest possible economic performance in 2018, reversing prior statements that the country would work hard to attain its growth objective in 2022. This occurred after a high-level meeting of the Communist Party that Xi presided over.