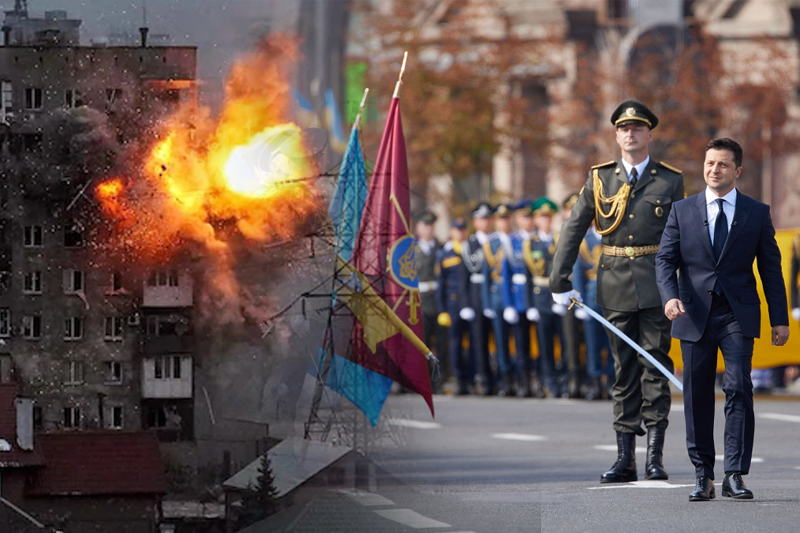 ukraines independence day amid fears of ramped up russian attacks
Ukraine's Independence Day amid fears of ramped up Russian attacks
Ukraine marked a tense 31st Independence Day on Wednesday, with no parades or parties amid fears of increase in Russian attacks, as United States was to announce an additional $3bn in aid to Ukraine. It has been 31 years since Ukraine gained its independence from the Soviet Union, and also exact six months since Russia launched an invasion in country, aimed to reverse Ukraine's independence from Moscow's control.
"Russian provocations and brutal strikes are a possibility," Ukrainian President Volodymyr Zelenskyy said in a statement, urging public to remain vigilant. "Please strictly follow the safety rules. Please observe the curfew. Pay attention to the air sirens. Pay attention to official announcements. And remember: We must all achieve victory together."
Keep Reading
The mood in the capital city of Kyiv was sombre. Since the war began six months ago on February 24, thousands of civilians have been killed – Ukraine has acknowledged 9,000 military deaths. Hopes of war ending any time soon appears a far fetched reality. Oleksandra Mykolaivna, 68, said it would be a painful day. "Everyone feels under pressure. A [normal] public holiday is when everyone is happy and celebrating. How many people have died? And then there are those pictures of the injured."
"A new nation appeared in the world on February 24 at four in the morning. It was not born, but reborn. A nation that did not cry, scream or take fright. One that did not flee. Did not give up. And did not forget," President Zelensky said in a recorded message to the nation. The 44 year old president delivered the speech in his trademark combat energy in front of Kyiv's central monument to independence from the Russia-controlled Soviet Union. "What for us is the end of the war? We used to say peace. Now we say victory," he said.