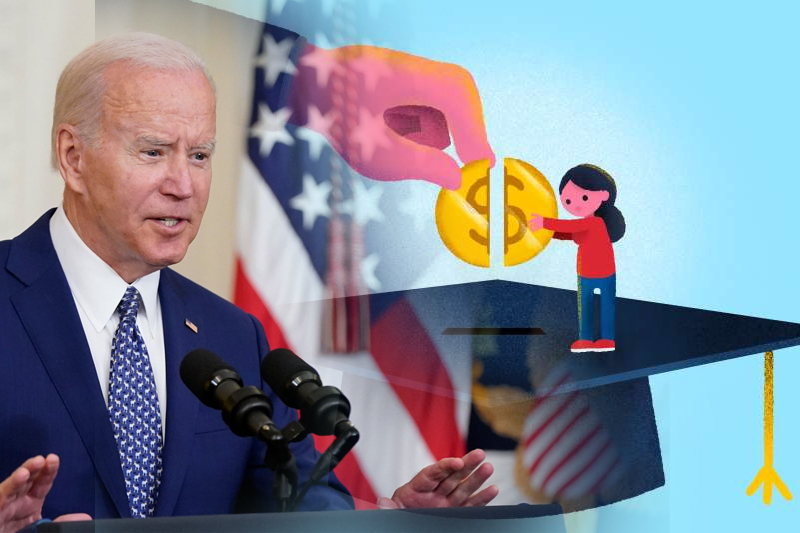 biden announces student loan relief for those earning less than 125000 a year
Biden announces student loan relief for those earning less than $125,000 a year
President Joe Biden announced on Wednesday that he will be cancelling $10,000 in federal student loans for millions of borrowers across United States, following through his campaign promise of addressing the burden of student debt. The move that has come through after much anticipation is a historic step in United States. Borrowers who are earning less than $125,000 a year, or $250,000 for couples who file taxes jointly, will now be eligible for student loan cancellation. Furthermore, Pell Grant recipients, who are the majority of student loan borrowers, will be now eligible for an additional debt relief of $10,000 for a total of $20,000.
President Biden has also announced extending the pause on federal student loan payments for one final time through December 31. It was earlier scheduled to expire August 31.
"Education is a ticket to a better life. … but over time that ticket has become too expensive for too many Americans," Biden said during a speech from the White House. "All this means that an entire generation is now saddled with unsustainable debt in exchange for an attempt, at least, at a college degree. The burden is so heavy that even if you graduate you may not have access to the middle-class life that the college degree once provided," President Biden said describing how cost of higher education has increased exponentially over past few decades.
Keep Reading
Borrowers can qualify for student loan debt forgiveness on basis of their incomes in either the 2020 or the 2021 tax year. To receive loan relief, majority of qualified borrowers will have to fill out an application with the Education Department, the forms of which will be available in the coming weeks. The debt forgiveness is applicable to undergraduate, graduate and Parent Plus loans. Current students can also qualify for debt waiver, but students claimed as dependents will be eligible on basis of their parents' income.
The White House said that "43 million student loan borrowers will benefit and that as many as 20 million borrowers will have their full remaining student loan balances wiped out".