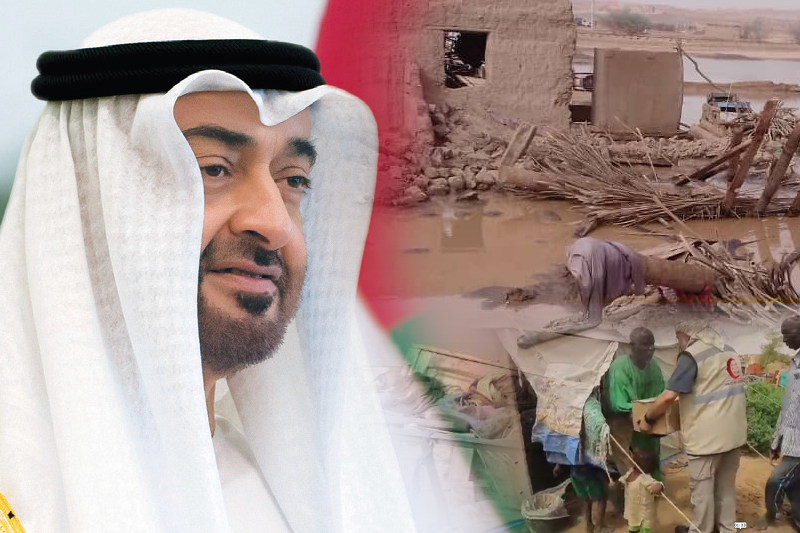 mbz orders urgent humanitarian aid to flood victims in sudan
MBZ orders urgent humanitarian aid to flood victims in Sudan
Continuing to abide by the principles of the United Arab Emirates' and founding fathers of empathy and supporting those in need, country's President His Highness Sheikh Mohammed bin Zayed Al Nahyan, fondly known as MBZ, has ordered an urgent humanitarian aid of Dh25 million for the victims of Sudan flood and those who have been displaced due to the natural disaster. The directives by His Highness Sheikh Mohammed reiterate the solidarity principle of the UAE as the country comes to aid of Sudanese people in such difficult situation.
"The relief aid also aims to support Sudan's efforts and capabilities in containing the fallout of the torrential rains that flooded vast areas across the country," mentioned Emirates News Agency, WAM.
Gesture testament of deep relations between UAE and Sudan
The gesture highlighting empathetic and solidarity side of the country testifies the deep rooted relationship between UAE and Sudan. Earlier this year, the then Crown Prince, and now President of UAE Sheikh Mohammed bin Zayed Al Nahyan reaffirmed the commitment of UAE to continue its support for the Sovereign Council of Sudan. MBZ had told Sudanese Vice-President of the Sovereign Council, Mohammed Hamdan Daqlo that "fraternal relations and ways to enhance joint cooperation between the two brotherly countries in various fields serve to promote common interests, and exchanged views on a number of issues and files of common interest". With this the UAE has also maintained its historical position from the period of Sheikh Zayed and Sheikh Khalifa.
Keep Reading
Unprecedented humanitarian aid to Sudan floods
UAE's aid to Sudan's flood victims is said to be the largest humanitarian aid provided by UAE to any nation affected by a natural disaster this year. The assistance offered by the Emirates is aimed to lessen losses of homes, livestock owners, and agricultural lands as a result of floods in Sudan.
UAE continues to tread on principles of empathy and humanity in an unbiased fashion
UAE is the only country that has always practiced the principles of empathy, solidarity and offering humanitarian assistance to all people and countries in need, irrespective of region, religion and demographics. Furthermore, the aid by UAE is never based on political interests – the biggest evidence of this is the aid offered by UAE to Iran during coronavirus pandemic, a country whose foreign policy and principles are entirely different from that of UAE.