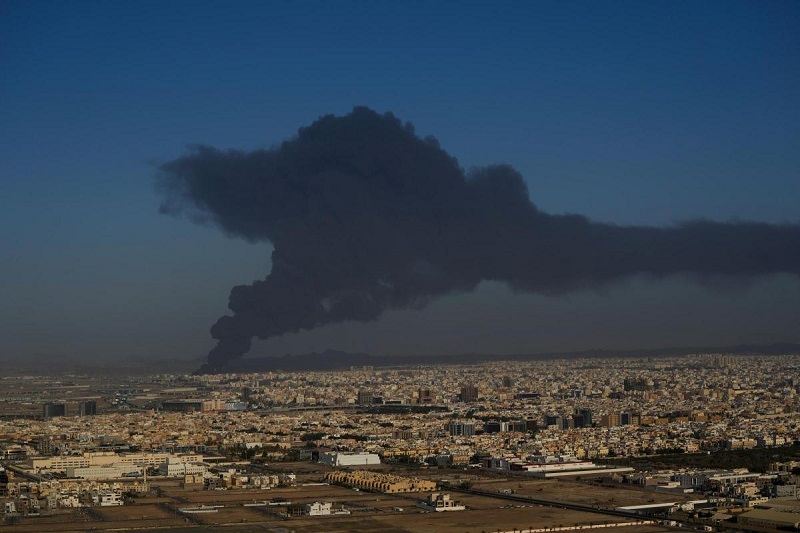 houthi missile attack fails to deter saudi arabian grand prix
Houthi missile attack fails to deter Saudi Arabian Grand Prix
After a missile attack that led to fire at an oil depot in Jeddah few days before Formula One in Saudi Arabia, organizers of the Grand Prix have insisted that the event will go on as scheduled. The Houthi rebels of Yemen had claimed responsibility of the attack at an oil facility about 10 miles fr"m the Grand prix circuit. But drivers at the event have raised concerns to F1's chief executive, Stefano Domenicali over the Grand Prix in a four-hour meeting after the attack. The discussions extended well beyond midnight up until 2:30 am local time as the chief executive of F1 assured that it is safe for the event to go ahead as scheduled.
Earlier, the organizers of Saudi Motorsport Company had confirmed that Grand Prix would have a go-ahead after team principals of all 10 teams had consented their participation in the event post-attack.
Related Posts
"We are aware of the attack on the Aramco distribution station in Jeddah earlier this afternoon and remain in contact with the Saudi security authorities, as well as F1 and the FIA to ensure all necessary security and safety measures continue to be implemented to guarantee the safety of all visitors to the Formula One Saudi Arabian Grand Prix as well as the drivers, teams and stakeholders," read a statement. "The race weekend scheduled will continue as planned. The safety and security of all our guests continues to be our main priority and we look forward to welcoming fans for a weekend of premium racing and entertainments."
Following the meeting, Mercedes' Toto Wolff said, "It was a good meeting. We, as team principals, have been assured that we are protected here, that's probably the safety place in Saudi Arabia at the moment, that we're racing." Red Bull's Christian Horner also extended his confidence over the event. "We'll be racing," he said.
The missile attack by Yemen's Houthi rebels led to fire at an oil facility near the circuit. Huge black smoke plumes were clearly visible from the circuit as they rose high into the sky. Houthi rebels have been in a conflict for years now with the Saudi-led coalition. In what appears as a series of planned attack in Saudi by the rebels, another oil facility in Jeddah was attacked last Sunday.
"We have received total assurances that, for the country, safety is first, no matter the situation – safety has to be guaranteed," Domenicali said underlining the assurance by the Saudi authorities over guaranteed safety of the teams. "So we feel confident and we have to trust the local authority in that respect. Therefore, of course we will go ahead with the event."