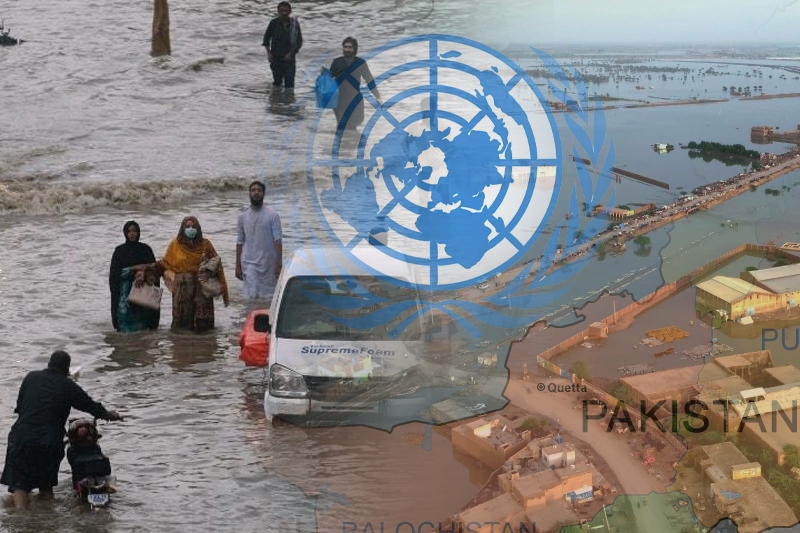 doomsday scene in pakistan as a third of country is underwater
'Doomsday' scene in Pakistan as a third of country is underwater
There is a "doomsday" scene in Pakistan as monstrous monsoon has left a third part of the country submerged underwater, over 1000 people have already been reported dead and thousands displaced. There has been an estimated damage of $10 billion due to massive rain and floods. Scores of homes, crops and other infrastructures have been swept away in this monsoon season of the Asian country. With vast areas being cut off from power and critical supplies, many people remain stranded and in urgent need of assistance.
While Pakistan's climate minister had this week called the disaster as the worst form of climate catastrophe, climate and environment experts have drawn a direct link to "human made climate change". They have illustrated how nations having minimum contribution towards global climate crisis are rapidly becoming more vulnerable to the impact of climate change and its dire effects.
Keep Reading
The United Nations have issued an urgent appeal for emergency funds to the country, urging global aid to be made available to the South Asian nation. "An estimated 33 million people have been affected by the worst flooding in decades and more than 1,000 people, mostly children, have died since mid-June when heavy rains began pounding the country," Jens Laerke, spokesperson for the UN humanitarian coordination office, OCHA, said on Tuesday.
The Pakistani people are facing a monsoon on steroids. More than 1000 people have been killed – with millions more lives shattered.

This colossal crisis requires urgent, collective action to help the Government & people of Pakistan in their hour of need. pic.twitter.com/aVFFy4Irwa

— António Guterres (@antonioguterres) August 30, 2022
According to Mr. Laerke, "500,000 people displaced by the floods are sheltering in relief camps … nearly one million homes have been damaged and over 700,000 livestock have been lost."
Three objective plan by UN for Pakistan aid
The OCHA has chalked out a three objective plan for Pakistan aid:
First, the delivering of lifesaving and livelihood assistance like food, clean water, medical aid and shelter must be extended
Second, measures have to be taken to prevent widespread outbreaks of communicable diseases such as cholera, while assisting adequate nutrition among children and lactating mothers to prevent malnutrition
Third, ensuring that people are able to gain access to the assistance and protection in a safe and dignified manner
Matthew Saltmarsh, UN refugee agency (UNHCR) spokesperson, told reporters in Geneva that currently the focus of agency has been on "emergency provision going into the affected regions and providing emergency relief items. These include primarily shelter items, but also, cooking stoves, blankets, solar lamps." He added, "So far, we've delivered $1.5 million worth of aid, but much, much more will be needed in the coming weeks and also over the medium term, including development assistance."
📢 #PakistanFloods update📢

WFP assistance to include food relief, malnutrition prevention and livelihoods support.

WFP will also give logistics support for the response. But US$ 34 million is urgently needed to ramp up relief operations.

🔗Get the full update

— World Food Programme (@WFP) August 30, 2022