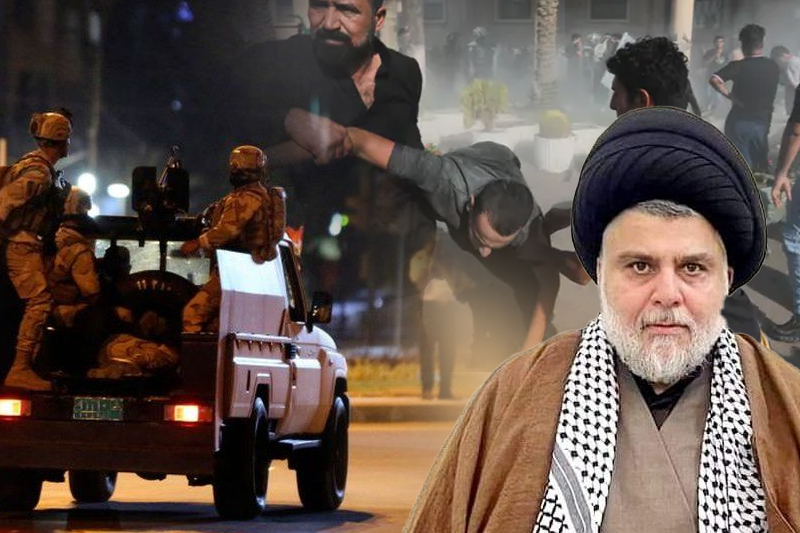 deadly violence erupts in iraq pushing it on verge of civil war
Deadly violence erupts in Iraq pushing it on verge of civil war
Iraq came on the verge of civil war on Monday after announcement by powerful Shiite cleric Moqtada Al-Sadr that he was quitting politics triggered clashes between his supporters and Iraqi security forces. The supporters of Shiite cleric stormed government headquarters in Baghdad, leading to clashes with Iran-backed militias that killed at least 15 of them. "The very survival of the state is at stake," the UN mission in Iraq has warned, urging all parties to "refrain from acts that could lead to an unstoppable chain of events."
Sadr's supporters, who have been staging a sit in at parliament in the Green Zone for weeks now, breached the entrance of the Republican Palace, the venue of cabinet meetings. By late in the day, forces loyal to Sadr were deployed across Baghdad, where many were wrecking the posters of Iranian-backed Shia leaders, which included the Iranian general Qassem Suleimani, who was killed in 2020 in a US drone strike. Members of a rival Shiite bloc, the pro-Iran Coordination Framework, reportedly opened fire on the Sadrists, leading to clashes between the two groups. Protests have also spread to other parts of Iraq with Sadrists storming government buildings in the southern Iraqi cities of Nasiriyah and Hillah, and also blocking entrances to Umm Saqr Port.
Keep Reading
The latest surge in violence was initiated when Al-Sadr, who holds widespread influence over state institutions and also controls a paramilitary group, said he would be closing his political offices. "I've decided not to meddle in political affairs. I therefore announce now my definitive retirement," he said.
The recent development by Sadr has complicated political situation in Baghdad where tussle and political deadlock between Iranian backed figures and pro-Baghdad parties has been ongoing for past 10 months. Iraq has been struggling for decades under regional conflict and endemic corruption. Despite being rich in oil reserves, the country is devastated by degrading infrastructure, unemployment, power cuts and crumbling public services, with further crises emerging due to severe drought across the country.