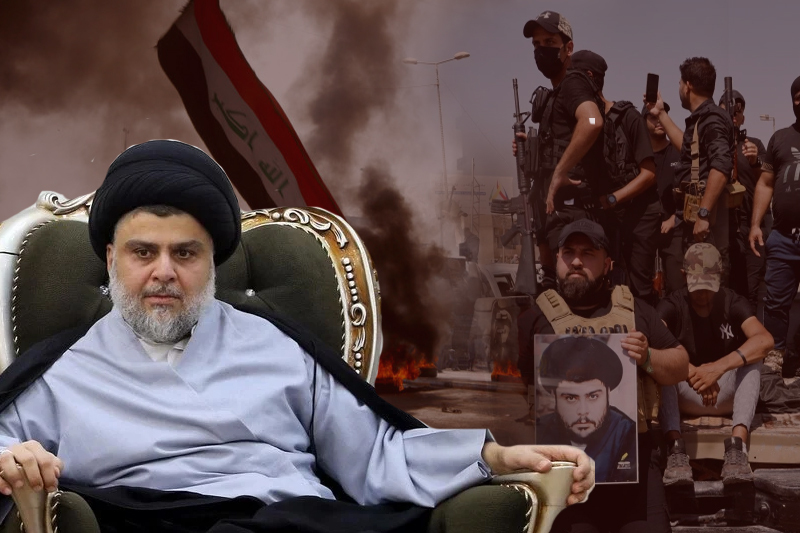 what a day of riots in iraq reveals about countrys most powerful man
What a day of riots in Iraq reveals about country's most powerful man?
It took Muqtada al-Sadr only 24 hours to showcase his real power to his opposition in the country and the world. The fiery Shiite cleric's announcement of exiting politics brought thousands of his supporters on the streets of Baghdad that quickly turned into one of the most violent riots in several years in Iraq.
Sadr, who considers Iran and United States as his raunch adversaries, announced on Monday of his withdrawal from politics citing continuous maneuvers of his opponents against him. The decision triggered rampage as thousands of Sadr's supporters stormed the streets of capital city and even the heavily fortified Green Zone. Only after at least 21 people were killed in the clashes and 250 injured did Muqtada al-Sadr called on his supporters to stop the rampage.
"Essentially, he let his supporters have a free 24 hours to do as they pleased," Sajad Jiyad, a fellow at the Century Foundation in New York told CNN. "It does send a message to his rivals that he is a key player in the country. Also, that he has potential to use violence as much as any other side, said Jiyad.
Keep Reading
The whole unfolding also highlights the extremely fragile state of government in Baghdad, that chose to stay silent and neutral through this crisis.
Muqtada al-Sadr's equation with global powers
48 years old Al-Sadr is a cleric from a prominent Shiite family of Iraq who commands the support of millions across the country. His father, Ayatollah Muhammad Sadiq al-Sadr, was a key Shiite figure who spoke out against Saddam Hussein and his ruling Baath party openly. Al-Sadr has managed to maintain his strong hold in Iraq's political scene through tapping the strong Shiite protest, through the years since 1999 after he took the place of his father post his assassination. This latest move has further reinforced his position and power.
In the US, Al-Sadr is known for his role in Mahdi Army, which he established in 2003 during the US invasion of Iraq. During US occupation of Iraq, he fled to Iran and returned in 2011. Since then, he has established himself as a fierce critic of Tehran's influence in Baghdad. His stand against Iran have gained him indirect support from US and Gulf countries.