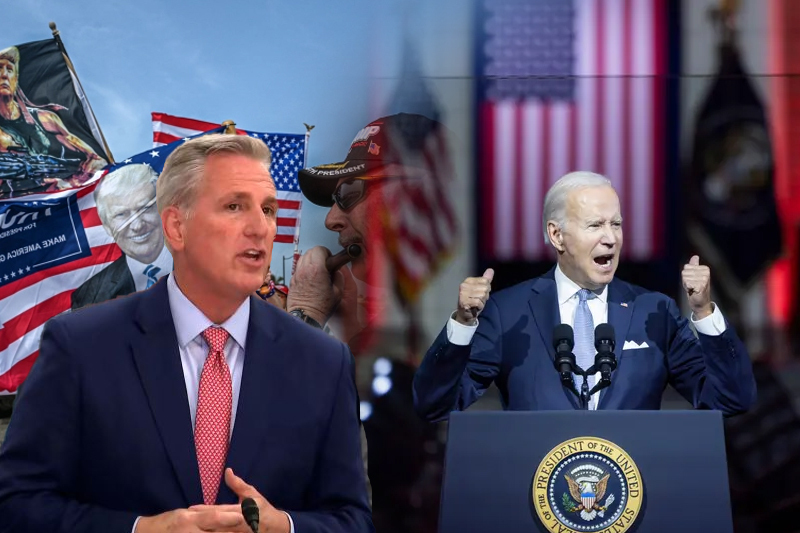 biden calls trump and his maga forces a threat to democracy in primetime speech
Biden calls Trump and his MAGA forces a "threat to democracy" in primetime speech
President Joe Biden, in his fiery primetime speech on Thursday, has accused former President Donald Trump and his "MAGA" supporters of promoting an "extreme ideology that threatens democracy". President Biden was in his rare attacking fiery mode as he stepped up his attacks on the Republican conservative party ahead of the midterm elections. "Too much of what's happening in our country today is not normal. Donald Trump and the MAGA Republicans represent extremism that threatens the very foundations of our republic," Biden said in the primetime speech from the Independence National Historical Park in Philadelphia.
Biden emphasized that not all Republicans are "Maga extremists" but he stressed that there was not a question that the party has been "dominated, driven and intimidated" by former President Donald Trump. These Trump-pro Republicans, he said, "thrive on chaos and don't respect the constitution or the rule of law". They "promote authoritarian leaders and they fan the flames of political violence", he continued. He also noted that the Trump's MAGA extremists believe that there can be only two outcomes to election – either they are the winners or they have been cheated, that is elections are rigged. "You can't love your country when only you win," Biden said to thundering applause.
Keep Reading
"MAGA Republicans have made their choice. They embrace anger. They thrive on chaos. They live not in the light of truth but in the shadow of lies," Biden said.
"For a long time, we've reassured ourselves that American democracy is guaranteed. But it is not. We have to defend it. Protect it. Stand up for it. Each and every one of us," Biden stressed demanding it is time to protect country's democracy.
Before the primetime speech by Biden, House Minority Leader Kevin McCarthy, R-California, appeared in Scranton in Pennsylvania, Biden's hometown, accusing President Biden to be divisive by labelling all Trump supporters in his recent campaign as "semi fascists". "Instead of trying to bring our country together to solve these challenges, President Biden has chosen to divide, demean and disparage his fellow Americans — simply because they disagree with his policies. That's not leadership," McCarthy said.