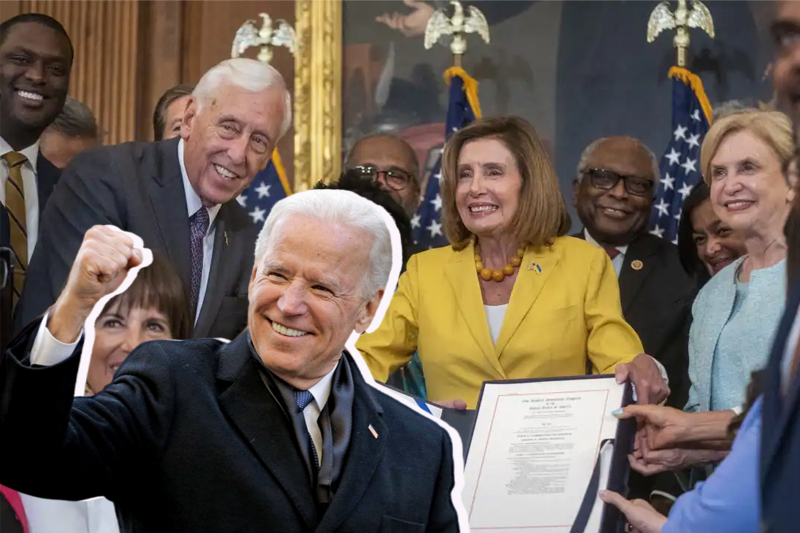 Big win for Biden: Climate bill passed by Congress
Big win for Biden: Climate bill passed by Congress
House Democrats on Friday have given approval to a sprawling healthcare and climate bill that will lower prescription drug costs, address global warming, raise taxes on some billion-dollar companies and reduce the federal deficit. With the Congress now giving final approval to the critical Democrats' bill, it is now being sent to President Biden for his final signature to turn this bill to legislature. This comes at the right time for Biden presidency with this year's elections in sight, giving a big win to Biden administration with climate change being a big agenda of the campaign.
The House used a party line 220-207 vote to pass the bill as the Democrats celebrated the win on House floor and White House staff cheered as they watched the historical win on television. "Today, the American people won. Special interests lost," tweeted the vacationing Biden from Kiawah Island, South Carolina. Biden will be signing the legislation next week.
With the passage of the Inflation Reduction Act, House Democrats chose to build a future where everybody has a shot, not just the already-powerful. pic.twitter.com/q83y98FMeu

— President Biden (@POTUS) August 12, 2022
"Today is a day of celebration, a day we take another giant step in our momentous agenda," said House Speaker Nancy Pelosi, Democrat from California, before announcing the final vote while presiding over the chamber. She said the big step "meets the moment, ensuring that our families thrive and that our planet survives."
Related Posts
The bill, known as the Inflation Reduction Act of 2022, has secured the biggest ever investment by the United States to tackle blazing issues like climate change, with dedicated $370 billion to curb the harmful emissions and promote green technology in the country, all to tackle the climate crisis. The healthcare part of the bill caps and lowers drug costs for seniors. Furthermore, the bill spares about $13 million for low and middle income Americans from hike in their insurance premiums that would have been implemented next year.
Republicans have strongly opposed the bill, calling it a waste of public money. "Democrats, more than any other majority in history, are addicted to spending other people's money, regardless of what we as a country can afford," said House Minority Leader Kevin McCarthy, R-Calif. "I can almost see glee in their eyes."