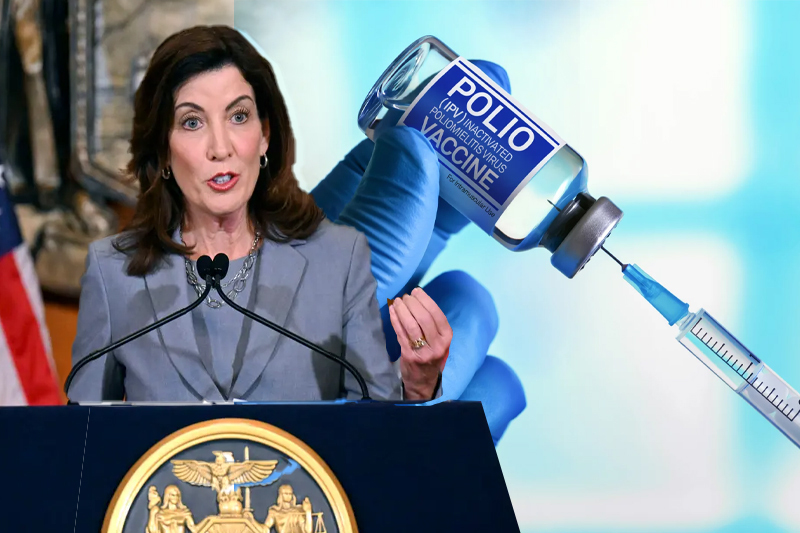 disaster emergency in new york after 5 counties record surge in polio cases
Disaster emergency in New York after 5 counties record surge in polio cases
Kathy Hochul, the governor of New York has declared a disaster emergency on Friday after new cases of polio were recorded in five counties. The governor added that the state was stepping up its efforts to combat the polio after the virus was detected in the wastewater of one more county in the New York City area.
Health officials have bolstered the efforts to check for signs of the polio virus in sewage water after the country's first case of polio in almost a decade was detected in July in Rockland county, near the New York city. The latest detection of virus was in a wastewater sample that was collected last month in Nassau county on Long Island. "The sample is genetically linked to the polio case from Rockland and provides further evidence of expanding community spread," state health officials said.
Keep Reading
The polio virus has also been previously detected in wastewaters in New York city as well as three counties to the north – Sullivan, Orange and Rockland.
Governor Hochul has declared a state disaster emergency that will allow Emergency Medical Service (EMS) workers, midwives and pharmacists to dispense polio vaccines and also enables doctors to issue existing orders for the vaccine.
"On polio, we simply cannot roll the dice," the state health commissioner, Mary Bassett, said. "If you or your child are unvaccinated or not up to date with vaccinations, the risk of paralytic disease is real. I urge New Yorkers to not accept any risk at all."' The polio vaccination rate across the New York state is 79 per cent, but the counties of Rockland, Orange and Sullivan had comparatively lower vaccination rates against polio virus. Officials have also stressed that it is a possibility that many more people across New York counties have contracted polio and are unaware of it as many people might go on without being symptomatic while being source of transmission to others.