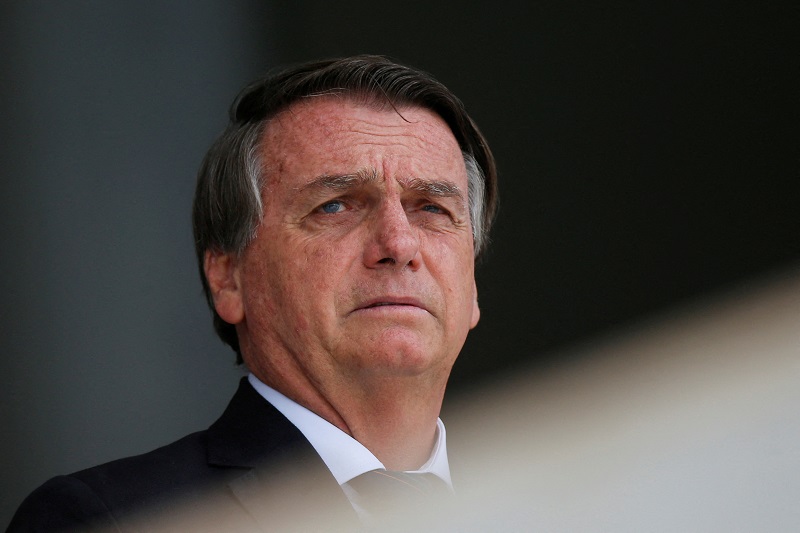 file photo: presidential guard change ceremony at the planalto palace in brasilia
Bolsonaro accuses Supreme Court judges of bias against him
Brazil -On Wednesday, Brazilian President Jair Bolsonaro accused Supreme Court Justices Alexandre de Moraes and Luis Roberto Barroso of being biased against him.
"They want Lula to become the president," Bolsonaro said in a TV interview.
Bolsonaro is set to compete in October's presidential elections with Luiz Inacio Lula da Silva – the former left-wing President.
Da Silva previously served as the President of Brazil from 2003 to 2010. He is expected to run against Bolsonaro.
"I understand that they do not want to vote for me. But, do they want the man who robbed the nation for so many years to become the President?" he added.
It is pertinent to state that recent polling shows Lula can defeat Bolsonaro in the upcoming presidential election. A Quaest Pesquisas survey released Wednesday showed Lula getting 54% of the vote, with Bolsonaro garnering 30%.
There are widespread concerns that Bolsonaro may not concede if he loses the presidential race.
Related Posts
Recently, Bolsonaro railed against Brazil's electronic ballot system ahead of the election, saying that it was rigged against him. Moreover, inflation is one of the significant issues that could cost Bolsonaro his seat. It merits mentioning that Brazil's inflation rate exceeded 10% on Thursday, the highest figure in six years.
The Brazilian President has also been bashed for mishandling the ongoing COVID-19 pandemic. Brazil has one of the highest domestic deaths from the virus. Jair Bolsonaro has consistently spoken against lockdown policies and vaccines to curb the spread of infection. He recently said he wouldn't allow his daughter to be jabbed against COVID-19.
The Quaest Pesquisas poll said 73% of those surveyed thought Bolsonaro had done a lousy job fighting inflation.
Moreover, the country's Afro-Brazilian and indigenous communities have been hard-hit by the virus. Bolsonaro, on Tuesday, approved a decree to form a committee to fight the pandemic among indigenous peoples in Brazil.
However, despite Bolsonaro's repeated miscalculations, almost 70% of the country's population is fully vaccinated.