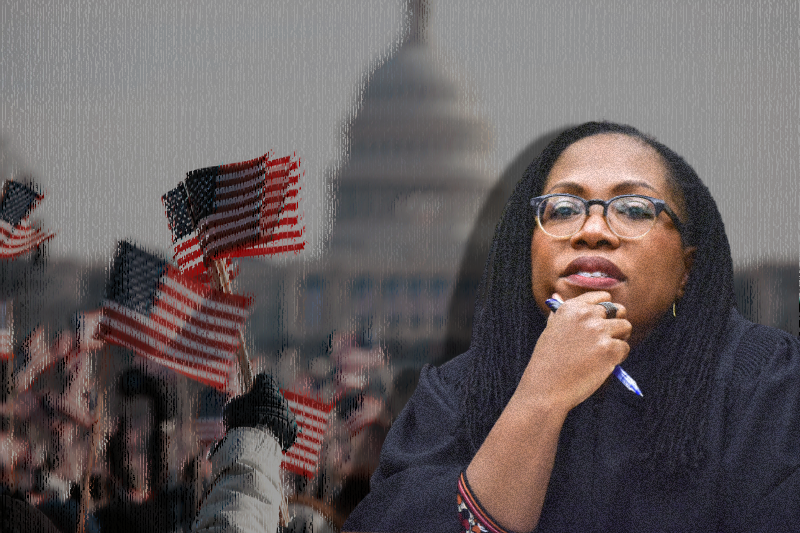 us history in making ketanji brown promises to defend constitution in opening remarks to senate hearing
US History in Making: Ketanji Brown promises to "defend constitution" in opening remarks to Senate hearing
United States is heading towards making history with Supreme Court nominee Ketanji Brown Jackson just few steps away from becoming the first and only Black female justice in US Supreme Court's 233 year history. Monday has marked the beginning of four days long Judiciary Committee hearings on her nomination with the first day including senators' opening statements, that went on for four hours. On Tuesday, Jackson would be responding to senators as they begin their 30 minute rounds of grilling the Supreme Court nominee.
In her opening remarks to Senate confirmation hearing on Monday, Ketanji Brown Jackson promised to defend Constitution of United States, calling it the "grand experiment of American democracy".
"I have been a judge for nearly a decade and I take my responsibility to be independent very seriously," 51 year old Jackson told the 22 senators in front of her. "I decide cases from a neutral posture." Addressing the committee, she said and encouraged to view her nomination as a history changing and defining moment for the future generations.
The ground-breaking nomination and confirmation hearings were resonated by Dick Durbin, the Democratic chairman of the committee as he opened the proceedings. He noted that when the court first sat in 1789, there were around 700,000 people enslaved in the United States – they had no citizenship rights or even access to equal justice. "You are living witness to the fact that, in America, all is possible," Durbin said. "We've come a long way since 1790, and we know we still have to form a more perfect union."
Related Posts
Cory Booker, a Democratic senator from New Jersey who is the only Black member of the committee, also seized the historic moment as he said, "Today we should rejoice. This is the America in which anybody can achieve anything."
As Democratic committee members were advocating Jackson's nomination as a historical moment, the Republican members of the committee quickly dived in to puncture reputation of Jackson by attacking her "radical liberal connections". Josh Hawley, of Missouri, read out seven cases list that were heard by Jackson as judge of district court, accusing her of leniency when the cities across US are witnessing rapid surge in violent crime. "What concerns me, and I've been very candid about this, is that Judge Jackson handed down a lenient sentence that was below the guidelines recommended."
Jackson, in her own 12-minute statement, didn't mention specific cases but assured the committee that she would "apply the laws to the facts of the case before me, without fear or favor, consistent with my judicial oath," if she was confirmed.