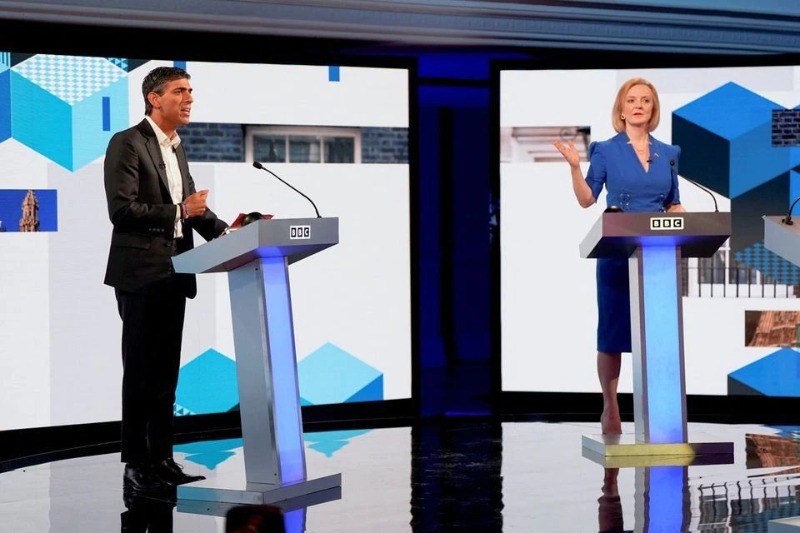 prime minister aspirants dispute taxes and spending
Prime minister aspirants dispute taxes and spending
On Monday, July 25, the two remaining candidates in Britain's bid to replace Prime Minister Boris Johnson squared off in a televised discussion, during which they attacked each other on their tax and spending proposals.
Bookies' pick to lead the Conservative Party, Foreign Secretary Liz Truss claimed that former Finance Minister Rishi Sunak's focus on balancing the government's budget will cause a recession.
Truss said that causing a recession to reduce debt service costs would be disastrous.
It was Sunak's decision to quit from government earlier this month that ultimately led to Johnson's demise; he claimed that Truss's plan to lower taxes would only lead to a temporary economic boost before the economy crashed.
Sunak, a former Goldman Sachs banker who has increased taxes to near their highest level since the 1950s, and Truss, a convert to Brexit who has promised to reduce taxes and regulation, are in the last days of a weeks-long race.
Regardless of who comes out on top when the results are revealed on September 5, they'll be taking over a country that's in some of the worst shape it's been in for decades. The annual rate of inflation is expected to reach 11%, economic expansion has slowed, the number of strikes has increased, and the value of the pound has fallen to near record lows against the dollar.
Related Posts
On Monday, they butted heads, highlighting the fact that there is disagreement inside Britain's ruling party on how best to handle the economy, with Truss advocating for a continuation of Johnson's big-spending mentality and Sunak playing the classic Conservative fiscal hawk.
Does anyone seriously believe that spending tens of billions of pounds on a reckless borrowing spree that will only serve to increase inflation is a good idea? Sunak, who kept cutting in on Truss, questioned.
According to Truss, she will be challenging the economic orthodoxy of Britain's powerful finance ministry, and she has labeled Sunak's concerns as "project fear," a phrase that was popular among Brexit supporters in the run-up to the 2016 vote.
Survation conducted an instant survey consisting of 1,032 people and found that 39% of those polled believed Sunak performed better than Truss throughout the discussion.
Out of the Conservative electorate, 47% favored Truss and 38% favored Sunak.
Last week, a YouGov survey of Conservative Party members showed that Truss had a 24-point lead against Sunak in the campaign for leader.
The Labour Party, the opposition, claimed that both candidates had attacked the Conservatives' record in administration during the debate without providing a solution to the rising cost-of-living crisis.