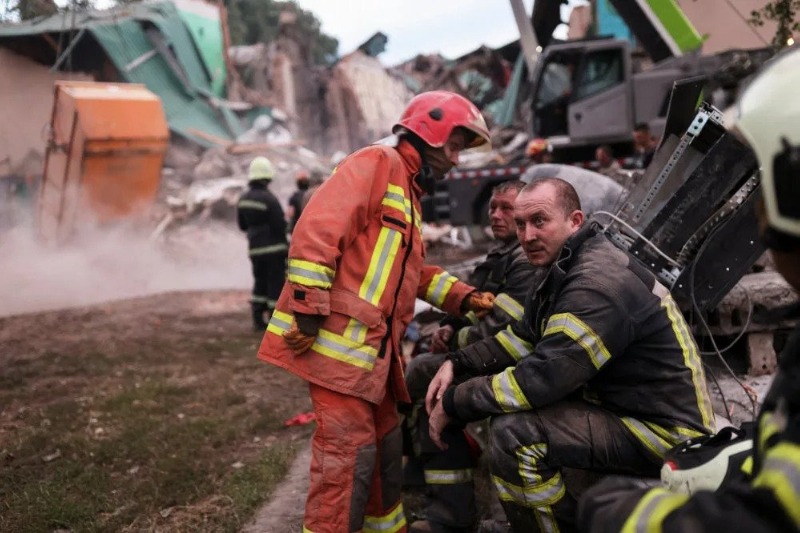 russia cuts gas to europe ukraine reports coastal attacks
Russia cuts gas to Europe, Ukraine reports coastal attacks
Russia has announced that beginning on Wednesday, July 27 it will cut gas supplies to Europe, dealing a blow to countries that have supported Ukraine. Meanwhile, missile attacks in Black Sea coastal regions have raised doubts about whether Russia will stick to a deal to allow Ukraine to export grain.
In spite of a Russian missile attack on the Ukrainian port of Odesa over the weekend and a spokesman for the military administration in the region saying another missile hit the Odesa region on Tuesday morning, the United Nations has said that the first ships from Ukraine may set sail in days under a deal agreed on Friday.
The largest battle in Europe since World War Two is already in its sixth month, and its effects can be seen well beyond Ukraine, as seen by the skyrocketing cost of energy and the prospect of hunger facing millions in impoverished nations.
As the European Union strives to wean itself off Russian energy and prepare for a possible total cut-off, member states are expected to agree a watered-down emergency measure to reduce gas use on Tuesday.
The Ukrainian armed forces stated on Tuesday that Russian cruise missiles had struck the country's southern regions, adding that Ukrainian forces had successfully attacked hostile objectives. A spokesman for the Odesa military administration, Serhiy Bratchuk, told a Ukrainian television station that a missile fired from the direction of the Black Sea had struck the area, but he did not provide any details on casualties.
According to Mykolaiv's mayor, Oleksandr Senkevich, an attack on the city's port infrastructure east of Odesa along the Black Sea coast caused significant damage.
The Russian Ministry of Defense did not immediately respond to a comment request made after hours.
Related Posts
Russian news agency TASS quoted a correspondent who was on the scene of a big oil storage fire in the Budyonnovsky region of the Russian-backed Donetsk People's Republic in eastern Ukraine. The fire was reportedly caused by shelling by Ukrainian troops. Up to this point, there have been no recorded injuries or deaths.
On Monday, the Russian energy giant Gazprom said that beginning on Wednesday, gas shipments to Germany via the Nord Stream 1 pipeline would decrease to 33 million cubic meters per day. This announcement was made in response to directives from an industry watchdog.
That's a reduction of 40 percent from the current capacity, which is already at a deficit of 60 percent. Before the war, Russia was Europe's primary supplier of energy; the continent relied on Russian gas and oil for almost 40% of its needs.
The European Union has accused Russia of energy blackmail, while the Kremlin argues the gas outage is the result of maintenance issues and Western sanctions.
In Europe, politicians have warned that if Russia were to shut off gas this winter, it would have a devastating impact on Germany's economy, particularly on customers who are already struggling with high prices.
Moscow claims it has no desire for a total shutdown of gas exports to Europe.
In a related development, the Ukrainian national pipeline operator firm reported that Russian gas giant Gazprom had unexpectedly and dramatically boosted pressure in a pipeline that travels through Ukraine to supply Russian gas to Europe.
The Ukrainian firm noted that pipeline operators have a responsibility to warn one another of impending pressure spikes that could cause crises such as pipeline ruptures. We tried to get a statement from Gazprom, but they were unavailable right away.
Russia and Ukraine were responsible for over a third of world wheat shipments before the invasion and ensuing sanctions.
On Friday, representatives from Russia, Turkey, Ukraine, and the United Nations reached an agreement to prevent attacks on commercial vessels transiting the Black Sea en route to the Bosphorus Strait in Turkey and subsequent markets.
Concerns that Russia's strike on Odesa on Saturday could jeopardize the accord were downplayed by Moscow, which said the assault was limited to the city's military installations.
The White House said the strike undermined Russia's credibility and that it was closely monitoring the country to ensure its promises were kept.
To boost exports from Ukraine via land routes, "we will also continue to actively explore additional options with the international community," the statement added.
Since Moscow's invasion on February 24, Russia's Black Sea fleet has prevented Ukrainian grain exports. Because of Western sanctions, Russia has been unable to increase the flow of food and fertilizer exports, and Moscow holds Ukraine responsible for blocking access to its ports with land mines.
The agreement reached on Friday ensures that ships will be piloted past naval minefields in a safe manner.
An official with the Ukrainian government expressed optimism that the first grain cargo might leave Chornomorsk this week, with more supplies from other ports following within two weeks.
According to Zelenskiy, trade would resume and security would be handled by the partners.
On a tour to African nations, Russian Foreign Minister Sergei Lavrov stressed that the agreement did not restrict Moscow's ability to assault military installations and that grain exports were unimpeded.
For the grain deal to go through, the Kremlin also said the UN must ensure that restrictions on Russian fertilizer and other exports were eliminated.
A "special military operation" to demilitarize and "denazify" Ukraine is reportedly underway, with the Kremlin making the claim. The Ukrainian capital and Western countries have both condemned the conflict as an act of aggression for which there was no justification.
Hundreds of thousands of civilians have been killed, and millions more have been forced to flee their homes because of the conflict. Cities have been obliterated by Russian artillery barrages and air strikes.
Putin's soldiers are advancing slowly, but they are rumored to be preparing for a new assault in the east in response to the Ukrainians' increased strength thanks to Western weapons.
The Ukrainian military said on Monday that they had employed HIMARS rocket systems supplied by the United States to target 50 Russian munitions stockpiles.
The Russian Defense Ministry said their forces had destroyed a HIMARS munitions storage, but the Russian government remained silent.