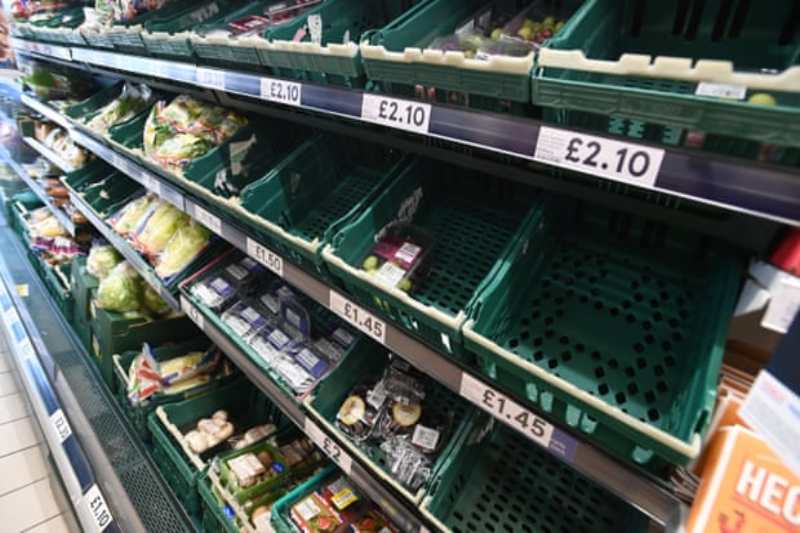 uk half empty supermarkets
Half-empty supermarkets due to Brexit and Covid, England asks for help from the military to bring food
Half-empty shelves, products that are in short supply: in some areas of the United Kingdom, Brexit, the pandemic as well as the high number of citizens forced to isolate themselves because they came into contact with a case of Covid have had an impact on the food distribution chain and others basic necessities, so much so that the army is ready to take action to unblock the situation. This is the new issue that the British government is facing: supply problems, especially in the most peripheral areas of the country, started after many employees were stuck in isolation due to the new increase in Covid infections.
The problem is the lack of truckers, 100,000 fewer than in pre-Covid times according to data from the Road Haulage Association (RHA), the association for trucking. According to the British press, these are mainly citizens of Eastern Europe who, with the restrictions on travel due to the virus and Brexit, have opted for other countries. A spokesman for Downing Street confirmed that military intervention is among the options under consideration to deal with the situation that, according to the main supermarket chains in the country, is serious: "We can barely keep our heads out of the way water," explained Chris Hall, Asda's head of logistics.
Related Posts
On the military front, two thousand drivers of the Royal Logistics Corps would be ready to intervene. To speed up the operation, they could be sent to various areas of the country and stay in hotels and hostels. The pandemic has blocked license exams. For the RHA, thousands of future truck drivers are waiting for the tests to obtain the documents necessary to carry out the activity, but not enough to cope with the shortage. "Arranging the intervention of the army is a short-term solution," underlined a spokesman for the association. "We have to ask ourselves how to attract the drivers we need."
With the total reopening announced by British Prime Minister Boris Johnson, up to 200,000 cases a day were expected, according to the most catastrophic scientists. Instead, to date, there are much less, about 30 thousand. And so "no more lockdowns and distancing in the future," headlines the Times. While in the United States there is the alarm for the Delta variant and there are soon 100,000 new cases a day feared, in London, there is optimism about the progress of the Coronavirus crisis.