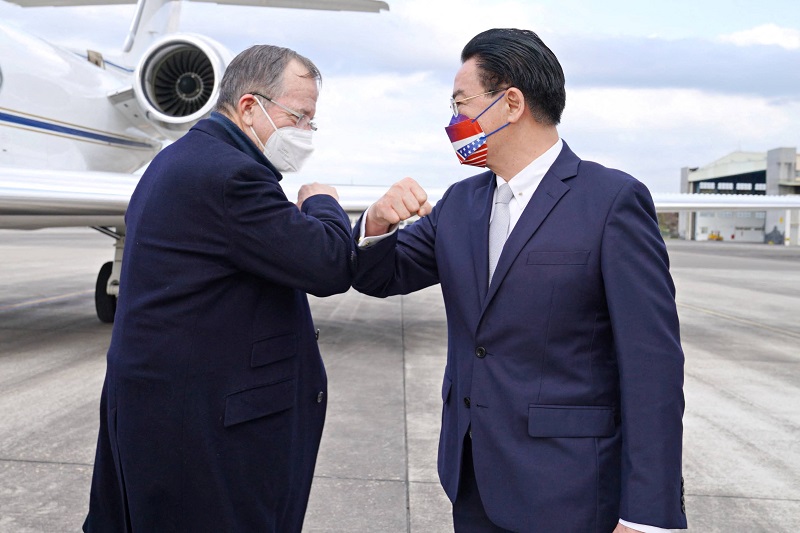 former u.s. officials arrive in taipei
China denounces US delegation's visit to Taiwan
Last updated on March 3rd, 2022 at 03:57 am
China -China has denounced the US delegation's recent visit to Taiwan.
The island's President Tsai Ing-wen vowed to work closely with allies in response to China's growing military threat.
Posts on state media tabloid, the Global Times, had reactions to the US visit. "It is a clear provocation. Don't be fooled. Just keep calm. They are waiting for Beijing to get into the trap," one commenter wrote.
"The attempt by the US to stand in support of Taiwan will be in vain. It doesn't matter who the US sends," Wang Wenbin, Chinese foreign ministry spokesperson, said in Beijing on Wednesday.
The delegation consisted of former US top defense and security officials. It has been sent by the US President, Joe Biden, and is visiting Taiwan against the backdrop of Moscow's invasion of Ukraine. Putin's adventure is being closely watched on the democratic island.
"The Chinese people are determined and resolved to safeguard territorial integrity and national sovereignty," Wenbin said.
Related Posts
It is pertinent to mention that Mike Mullen, ex-chairman of the US joint chiefs of staff, is leading the American delegation.
Mullen said the collaboration between Taiwan and the US was stronger and more expansive than before.
"The US will oppose any unilateral changes. We will continue to support a peaceful solution to the cross-strait issues. We will keep our efforts consistent with the best interests of the people of Taiwan," Mullen said in a live broadcast.
"The US stands firm behind its commitments. I hope we can reassure you and your people, as well as our partners and allies in the region."
Taiwan is claimed as its own territory by China. The island is on alert in case China tries to use the Russia-Ukraine crisis as a way to make a move. However, the government has seen no unusual Chinese activity.