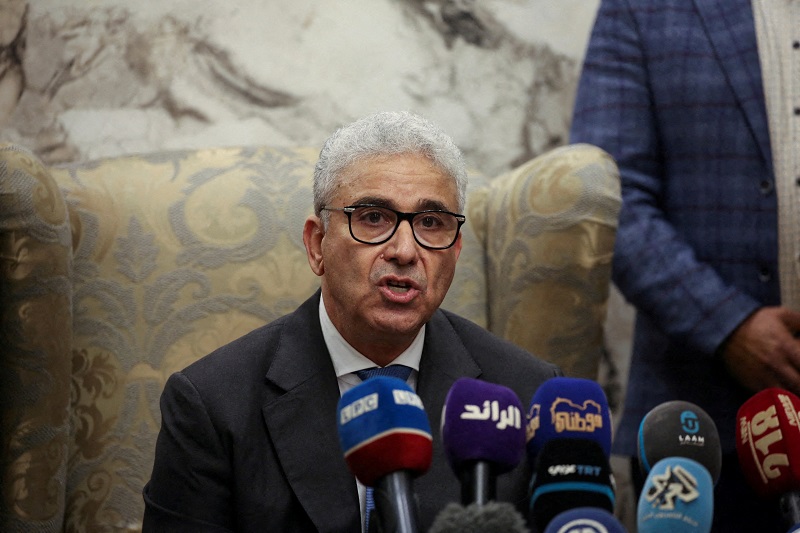 file photo: fathi bashagha, designated as prime minister by the parliament, delivers a speech
Libya parliament approves new government as crisis deepens

Libya – The east-based parliament of Libya approved a new government on Tuesday amid the political crisis. However, the incumbent prime minister Abdul Hamid Dbeibah rejected the vote and refused to cede power until the elections.
The move raised the risk of new conflict in the country. The House of Representatives (HoR) in the eastern city of Tobruk had designated former interior minister Fathi Bashagha as prime minister earlier this month. The parliament told him to form a new government to replace the government of Dbeibah. It disrupted the political stability of the country again.
On Tuesday, Bashagha submitted his Cabinet to the HoR, where 92 of 101 legislators in attendance approved it. The HoR speaker Aguila Saleh confirmed the news. The speaker declared Bashagha as the prime minister. It was also broadcasted live from Tobruk. However, Dbeibah refused to transfer power. Reportedly, he said parliamentary elections should be held in June.
Related Posts
Reportedly, the cabinet of 29 ministers, three vice-prime ministers, and six ministers of state, including two women, was put before the legislature to vote. The two women were holding the position of state minister for women's affairs.
On Tuesday, Dbeibah's government issued a statement condemning the vote. However, Bashagha said that the vote had been clear and transparent.
Dbeibah was appointed in March 2021 as head of the United Nations-backed GNU (Government of National Unity). He was appointed to oversee the run-up to an election in December. The east-based parliament declared that Dbeibah's government expired when the election did not take place in December 2021.
Both Bashagha and Dbeibah hail from Misrata, a city in western Libya. Both have the support of rival armed groups in Tripoli.
The parliament, which was elected in 2014, mostly took the eastern side in the civil war. The political crisis leaves Libya without a unified government.