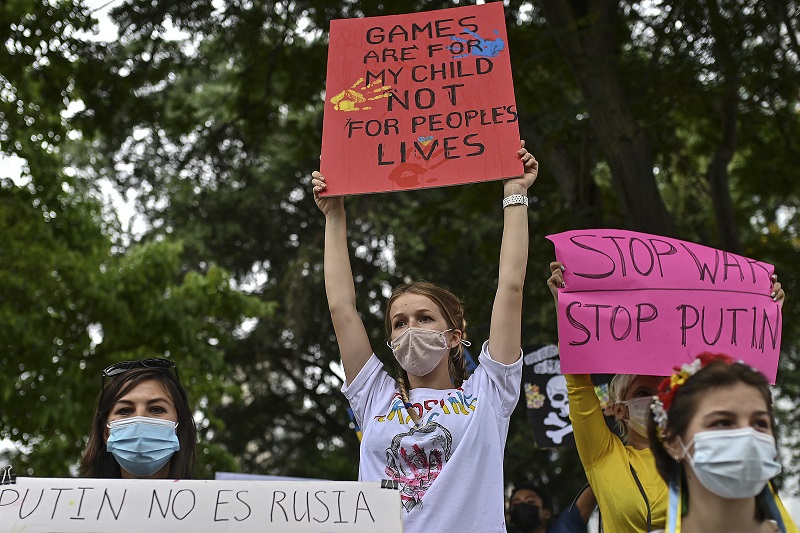 panama russia ukraine conflict protest
Protesters urge closure of Panama Canal to Russian ships over the Ukrainian crisis
Ukraine -A protest took place in Panama, a country in Central America, on Wednesday. A small group of protesters urged the Panamanian government to close the Panama Canal to Russian ships over Russia's invasion of Ukraine.
The protesters told the government of Panama to take this step as a punishment to Russia for its invasion of Ukraine. A mixed group of about 50 Ukrainians and Russians opposed the war in Ukraine. They demonstrated near the Panama canal. They wrote a letter to Panamanian President Laurentino Cortizo over the Ukrainian crisis. They sought sanctions against Russia.
The protesters wrote in a letter to consider closing the Panama Canal to Russian commercial and military ships until the war ends in Ukraine. Reportedly, few Russian vessels use the waterway linking the Atlantic and Pacific. Under a 1977 treaty, the United States-built canal was handed over to local control. The Panama canal is supposed to remain neutral during the international conflict.
Related Posts
Reportedly, a total of 3.5 per cent of the world's maritime trade passes through the waterway. The top user of the canal is the United States. Russia is not on the list of the top 15 users of the waterway.
Russia's invasion of Ukraine
In 2021, Russia began deploying big numbers of troops close to Ukraine's borders. However, the country denied its intentions of invading Ukraine. Subsequently, the United States President Joe Biden warned that Russia may invade Ukraine. Earlier, Putin accused the United States and its allies of ignoring Russia's demand to prevent Ukraine from joining NATO (North Atlantic Treaty Organisation).
Russia attacked Ukraine last week. Explosions were heard in many parts of Ukraine including the Kyiv and Kharkiv regions. Putin said that he announced the attack in Ukraine to protect civilians in eastern Ukraine. Later on, the European Union (EU) members agreed to impose economic sanctions against Russia over the Ukraine crisis. Subsequently, Ukrainian President Volodymyr Zelenskyy signed an application for the membership of Ukraine in the European Union.