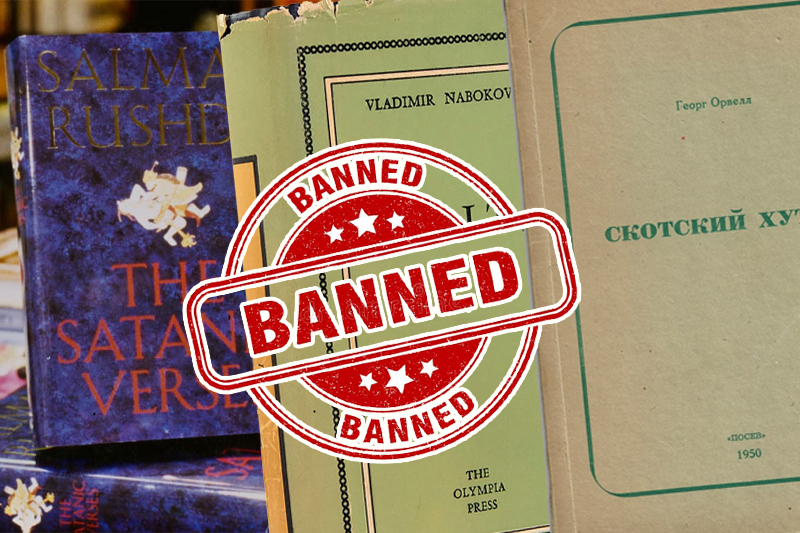 why are these books banned by governments
Why are these books banned by governments?
There are many controversial books that have been banned by many governments around the world over many decades. Recent attack on celebrated author Salman Rushdie has spiked the interest of readers around what books are banned and why the governments do not want people to read them. Let's shed some light on censorship around literature.
THE SATANIC VERSES – by Salman Rushdie (1988)
The Satanic Verses by Salman Rushdie was met with demonstrations, riots and ban on book in Muslim majority nations when it was released in 1988. In 1989 Iran's Ayatollah Khomeini issued a fatwa or religious edict calling for the author and everybody who worked on the controversial book to be killed. After the fatwa was issued, an Italian translator of the novel was stabbed, a Japanese translator of the book was murdered, and a Norwegian publisher was shot and wounded. Rushdie was forced into hiding, with the book still being banned in Iran, Kenya among other nations.
The book The Satanic Verses was a magical work around realism, attracting anger from authoritarian Muslim governments. Though reason of attack on Rushdie is still unclear, it "highlights that suppression and censorship of books has been going on for centuries and is still happening today," said Pom Harrington, director of the upcoming Firsts: London Rare Book Fair, which is focused on theme of banned books.
LOLITA – by Vladimir Nabokov (1955)
This classic by Nabokov is a story of pedophile's infatuation with a young girl. The story did not sit well with UK's censors. But French publisher Maurice Girodias, a champion for banned works who specialized in erotica, put the book's first copies into print. English novelist Graham Greene argued that the book was a metaphor for corruption of old world (Europe) by the new (US), and campaigned for its release in Europe. Ban in many countries was overturned as in 1962 a movie adaptation came out by Stanley Kubrick. But the book continues to be banned in many nations.
Keep Reading
ANIMAL FARM – by George Orwell (1945)
US and UK publishers rejected this satirical work on the dangers of Stalinist repression during World War II. The fear was that the book could undermine their alliance with the Soviet Union against Hitler. But they later embraced book after Soviet became the enemy during Cold War. The Animal Farm novella was banned in the Eastern bloc till fall of the USSR.
TROPIC OF CANCER – by Henry Miller (1934)
The book by Miller included violent sex scenes and misogynist language made it a hard sell in traditional book market. US customs banned the book in 1934 but it continued to be circulated in black market, until Supreme Court in 1964 declared it non-obscene. In 1986, Turkey outlawed the novella.
ULYSSES – by James Joyce (1922)
The book by James Joyce had elaborate sexual passages, particularly a masturbation scene that led to an obscenity trial in US. UK has also banned Ulysses but Joyce managed to print his entire work in 1922. The book was hit in black market but burned by US Postal Service and UK ports. After a judge ruled in 1933 that the book was not obscene, it made a hit in regular circulation. The book is still banned in Iran, but was recently translated into Persian for illegal distribution.