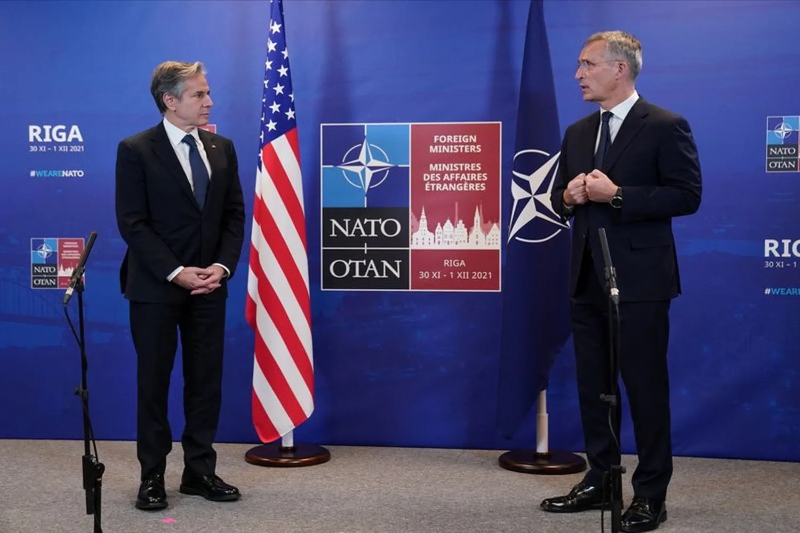 nato warns moscow
NATO warns Moscow against Ukraine 'aggression'
Latvia
On Wednesday, US Secretary of State Antony Blinken said Russia has plans to lock "aggressive moves" against Ukraine as tensions between Moscow and Washington mount ahead of a top-level meeting this week.
Blinken, after a meeting of NATO ministers in Latvia, said the United States was concerned by evidence that Russia had plans for aggressive moves against Ukraine.
Blinken's comments come ahead of his meeting with the Russian Foreign Minister, Sergey Lavrov.
At the start of a two-day conference, NATO foreign ministers met in the Latvian capital, Riga, with troubles on Russia's border with Ukraine topping the agenda.
NATO officials considered whether to provide support to Ukraine's military.
Related Posts
The 30-nation alliance stood uncertain of Russia's aims on Ukraine's borders, with fears of a Russian incursion surging amid accusations that Moscow deployed thousands of troops to its neighbour's borders.
Nato's Secretary-General Jens Stoltenberg said any Russian aggression against Ukraine would cost Moscow a high price, warning of grave political and economic consequences. Stoltenberg said that Ukraine was not a NATO member and was not covered by their defence pact.
"We need to convey a clear message to Russia. We need to prepare for the worst and tell them that they should not proceed with a military incursion into Ukraine," Nato's Secretary-General said, adding that the alliance members could adhere to imposing sanctions.
Blinken also warned Moscow of "serious consequences" if Russia launched an incursion into Ukrainian territory. 
"Any escalatory actions by Moscow would be of concern to the United States," he said.
On the other hand, the acting German Foreign Minister said Moscow would have to "pay the price for any form of aggression against Ukraine."
Meanwhile, Russian President Vladimir Putin said that NATO involvement in Ukraine was a "red line" for him, which he hoped would not be crossed.