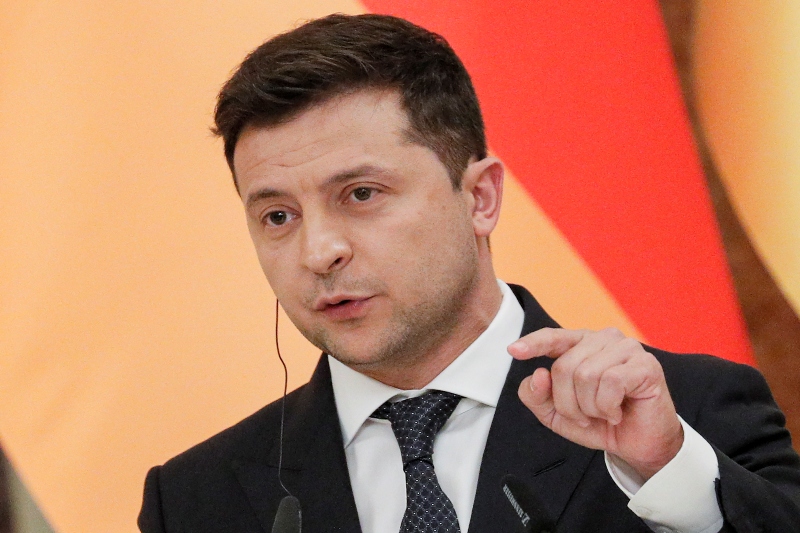 ukraine's president zelenskiy
Ukraine's President Zelenskiy is emerging strong under Putin's pressure of invasion
Ukraine
Once a soft politician who campaigned in 2019 on streets of Ukraine who promised he would free the country of corrupt politicians and jail them, is gaining a profound political makeover. And this is all under the pressure that Russia's Vladimir Putin is pushing an invasion in Ukraine from far east – contrary to the promise he had made two years ago to Ukrainians during the presidential political campaign.
Now the President of Ukraine, Volodymyr Zelenskiy is rounding up the western allies and call for aids to Ukraine. He is confident that with Russia progressing towards invading Ukraine, his country is now heading towards a NATO membership, an agenda that has become central to Zelenskiy's foreign policy.  
This month the European country that shares its eastern border with Russia, its long time foe, saw a remarkable leader in Zelenskiy. The President of Ukraine visited the frontline outside Donetsk on its eastern border and had conversation with the stationed personnel who will form the first line of defense against Russia, should it roll out the invasion.
Since last year's ceasefire, fifty Ukrainian soldiers have been killed in conflicts with Russia, a cost that has visibly changed the actor turned President – matured him. "I think he's matured. He's aged. You can see that," said Orysia Lutsevych, a research fellow and manager of the Ukraine forum in the Russia and Eurasia programme at Chatham House. "He's simply had to experience the burden of responsibility." 
Related Posts
With Russia having scores of tanks, artillery and ballistic missiles along the border with Ukraine, the invasion is imminent and might be around the new year, according to western intelligence. This would be yet another offensive in Ukraine under Putin after he was successful in annexing Crimea in 2014 and de facto occupation of a majority of Donetsk and Luhansk regions in the east of Ukraine.
Moscow has put up a list of demands to US over the head of Ukraine. It includes a guarantee that Ukraine would not be given a NATO membership, something that is difficult to reach consensus among members of NATO. Furthermore, Kremlin has demanded a special status for eastern countries, while it is already run by proxies from Russia. While Moscow knows that these demands can be rejected in most probability, Kremlin can treat it as a predicament to conduct the offensive. 
This is proving to be a crisis for presidency of Zelenskiy. "Zelenskiy was very naive about Russia's policy. He said that to stop the war it was necessary to talk to Putin. His rhetoric was pacifist," Olexiy Haran, professor of politics at the university of Kyiv's Mohyla academy, said.