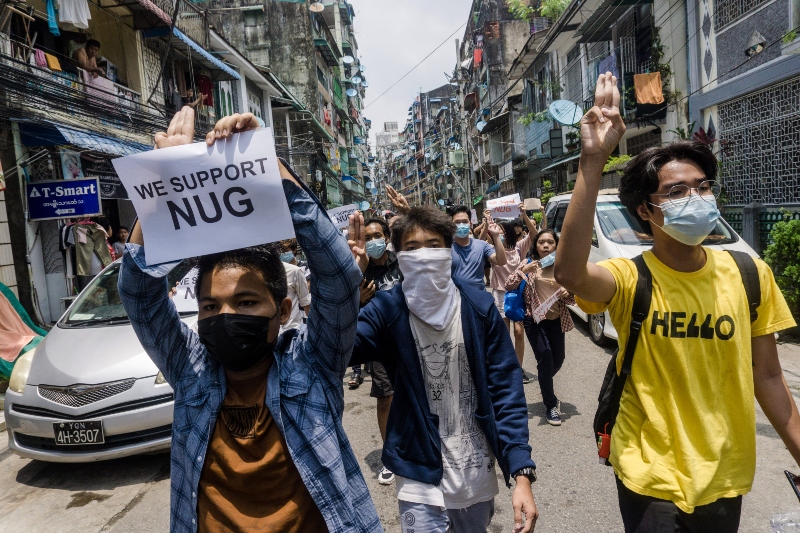 myanmar's nug
Myanmar's NUG announces a 'defense force'
A shadow government formed by the ousted Myanmar lawmakers claimed, on Wednesday, to have set up a "people's defense force" in a bid to protect civilians.
This step comes at a time when the police and military position deadly arms against anti-coup protesters.
The country has, since the ousting of civilian leader Aung San Suu Kyi, been in a state of constant turmoil. The junta coup has triggered mass uprisings, daily protests, and calls for a nationwide boycott from the civil servants. 
So far, about 770 people have been killed as a crackdown on the dissenters has intensified. As per local monitoring groups, the junta has a lower death toll and it blames it upon the "rioters".
Related Posts
The ousted group of lawmakers who term themselves the "National Unity Government" (NUG) are working underground to counter the junta. They have announced a "people's defense force" of their own to "curb the use of violence against masses".
The NUG has said that the force was a predecessor to a Federal Union Army and it had a task to end the decades-old civil war corroding the country.
The unity government was established last month by those opposed to the junta. They pledge to end violence, bring democracy back and build a "federal democratic union".
A young activist in Mandalay said he was planning to get to the federal army and "help in the fight against the Tatmadaw". He added that networks of activists had mobilized and started to train in the jungles.
There are various reports of some of those being imprisoned by the military, including a mass operation on April 30 in the Kayah state of eastern Myanmar.
Myanmar has seen, in recent weeks, blasts in cities and towns that are targeting government offices and military facilities.
So far, no one has taken the claim of responsibility, but the military keeps on blaming people bent on destabilizing the country.