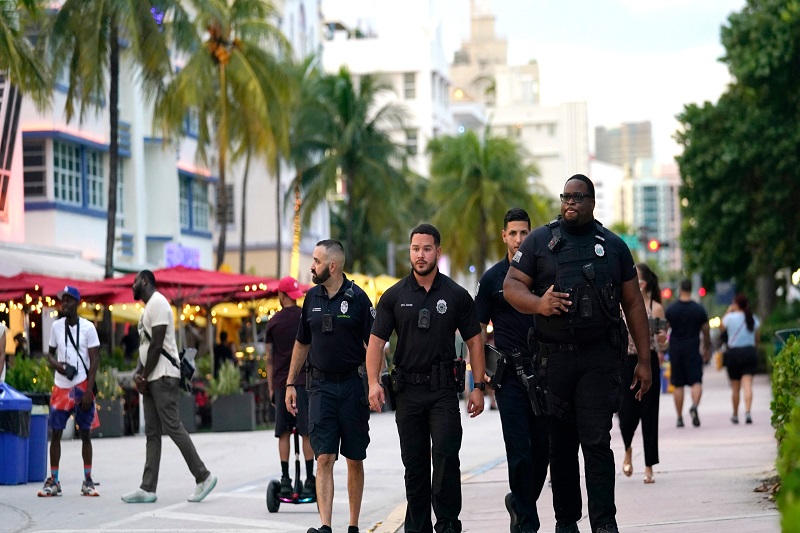 miami vice from nightlife center to a bad neighborhood
Miami Vice: from nightlife center to a bad neighborhood
Miami – Residents in South Beach, Miami's south beach, are in turmoil. The owners of historic venues are exhausted by riots, accidents, crime incidents that frighten customers, and blaring music has created more than one problem. So, the mayor wants to limit gatherings and cut clubs to restore order and silence. The decision sparked controversy and protests.
But there's more: the police intervention, which just a few months ago arrested a thousand people for violating the curfew imposed by the Covid pandemic, has led to accusations of racism because most of the partygoers are African Americans and Latinos. In a newspaper report, Ruban Roberts of the NAACP African American rights organization accused the police and mayor of treating blacks as "second-class tourists."
That is the classic story where everyone seems to be correct, and everyone seems to be wrong. For years South Beach had been a dark, empty, and abandoned place, ideal for some showdown or burning cars to light up the night. Then the Miami Vice TV series and news episodes, such as the assassination of the designer Gianni Versace, transformed the southern Miami neighborhood into a reference point for nightlife.
Related Posts
In the last thirty years, South Beach has flourished again, with its eight hundred art deco buildings, the historic districts of Collins Avenue, Flamingo Park, Ocean Drive, full of bars and restaurants, lakes for canoeing, the port for mooring ships cruise from which thousands of tourists descend with the desire to go salsa dancing at Mango's Tropical Cafe. But in recent times, the weekend mega parties have extended throughout the year, with ocean gatherings and blaring music, in addition to shootings.
"We cannot accept that this is normal – commented the mayor, Dan Gelber – the entertainment district has become the magnet of crime and disorder, and even if it produces revenues, it is not worth the problems it brings." Last month, police stepped up patrolling the area, but the mayor has already made it clear that an effort of this size cannot be sustained for long.
Permanent measures are needed. The proposal to revise the show plan to make room for family appointments and symphonic concerts caused laughter and protests. The idea of ​​cutting club and bar licenses does not convince everyone. Tom Glassie, the longtime owner of the Avalon Hotel, has asked to safeguard the area's affluent patrons.
Still, others, such as the owners of the Mango and the legendary Clevelander hotel, do not want to take the risk of turning South Beach into a retirement zone. A class clash is also underway: the customers of the exclusive hotels Fontainebleau, Delano, and Faena are demanding quiet, but the same is valid for the clubs aimed at the middle class, indicated as the cause of everything.
"If you can't afford to pay 200 dollars for dinner for two – they explain – you don't have to have a Michelin-starred restaurant to eliminate crime". The police argue that the most significant "problems" are not created by college students but by people who often come out of Florida and are looking for trouble. Many are African Americans and Latinos, and this ends up raising the temperature of the social conflict. Ken Koppel, head of a committee of four hundred residents, says tourists are often "drug dealers walking around armed, with no respect for the cops." Who wants to pay massive amounts, he adds, to live in an armored neighborhood? The situation is too tangled even for a hypothetical sequel to Miami Vice with Don Johnson and Philip Michael Thomas, now seventy-year-olds