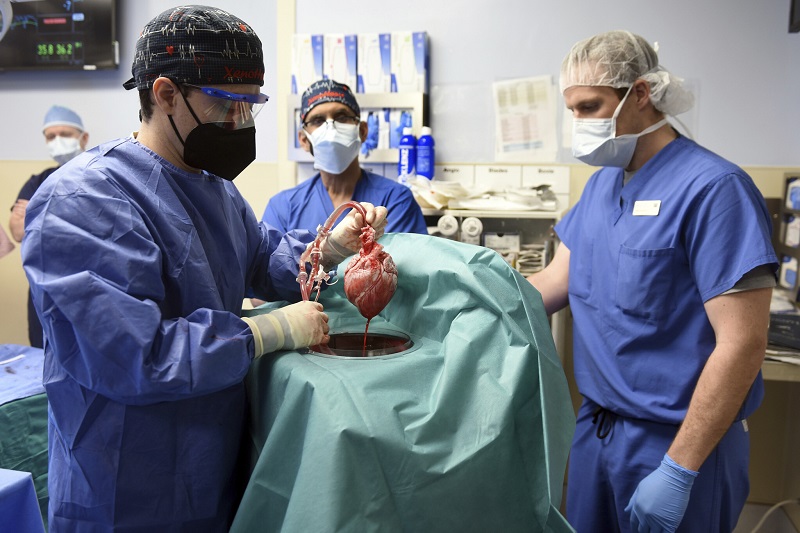 pig heart transplant
Medical milestone: US surgeons successfully transplant a pig heart into human recipient
First ever in medical world, a milestone has been achieved. Surgeons in United States have successfully transplanted a pig heart into human recipient patient. The highly experimental surgery was conducted at a Maryland hospital. The patient is said to be fairing well three days after the surgery, doctors said on Monday, though it is still too early to deem the surgery successful.
The surgery is an important milestone, and crucial first step, in decades long pursuit to use animal organs as life saving transplants in humans. The surgery has shown, doctors at University of Maryland Medical Centre said, that heart of a genetically modified animal can function normally in human body, with no immediate rejection.
The patient, David Bennett, a 57-year-old Maryland handyman said, "It was either die or do this transplant. I want to live. I know it's a shot in the dark, but it's my last choice." Bennett knew there were guarantees to the transplant surgery, but said he took the plunge as this was his last chance of survival.
Related Posts
As doctors shared the transplant success on Monday, Bennett was breathing independently while still being connected to heart-lung machine to support the transplanted heart. "If this works, there will be an endless supply of these organs for patients who are suffering," said Dr. Muhammad Mohiuddin, scientific director of the Maryland university's animal-to-human transplant program.
It is to be noted that prior transplant attempts like xenotransplantation had failed as the host body had rejected the transplant. Baby Fae, a dying infant was transplanted with a baboon heart in 1984, but could only survive for 21 days. But this is a different era. The pig was genetically modified, removing a sugar in the cells that are said to be responsible for rapid organ rejection. The pig who's heart was transplanted was developed by biotech company Revivicor, a United Therapeutics subsidiary.
Though the achievement is nothing short of a "watershed event", as described by Dr. David Klassen, UNOS' chief medical officer, the FDA (Food and Drug Administration) has called for the surgery in this categorization for "compassionate use" emergency authorization. Bennett's surgery was authorized by FDA under this criteria.