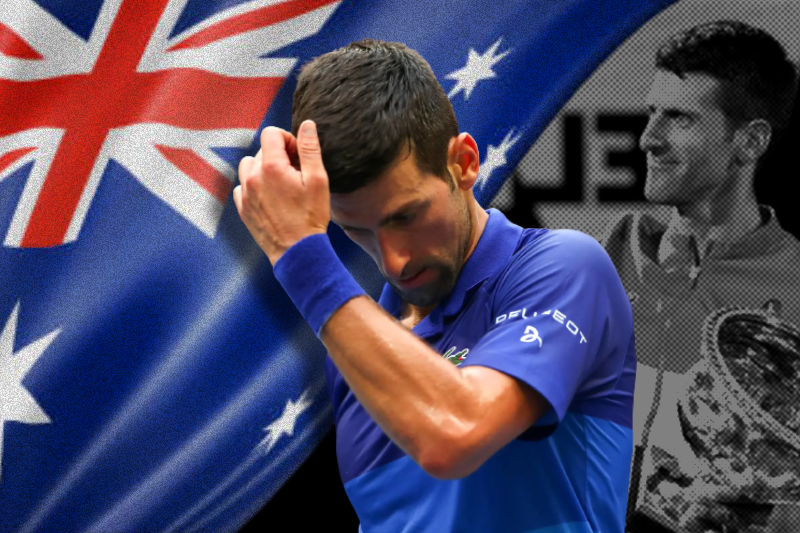 the politics around djokovics entry into australia
The politics around Djokovic's entry into Australia
Australia -Winning Australian Open 2022 would have brought Serbian tennis star Novak Djokovic to the milestone of bagging all Grand Slams of last year. But he might not be able to pursue the landmark as well as setting a men's record of winning 21 major championships. Reason? The visa confusion and giving him a free pass around mandatory Covid-19 vaccine requirement to compete in the Australian Open that begins on January 17 in Melbourne.
Djokovic was given a medical exemption around the vaccine requirement that's required for all players and support teams who are entering Australia to participate in the hard-court Grand Slam. But on Thursday, the 34-year-old Serbian player was detained at the airport for eight hours as he reached the country, revoking his visa. Now he has been put into a detention hotel, much like the score of migrants since the pandemic outbreak, and is now facing deportation.
Melbourne Park, where the games would be played, comes under the jurisdiction of the Victoria state government. It has been mandated by the government that all players, support teams, staff, and fans at the event get full Covid-19 vaccinations. No exemption would be provided unless for a genuine medical reason. Deputy Premier James Merlino of Victoria state said medical exemptions would not be "a loophole for privileged tennis players" and would be possible only in "exceptional circumstances if you have an acute medical condition." Tennis Australia conveyed that Djokovic's request for vaccine exemption "was granted following a rigorous review process involving two separate independent panels of medical experts." But the real reason for exemption hasn't been revealed.
Now, the question arises that if he was granted an exemption, why was Djokovic detained at the airport and prevented from entering the country. The Australian Border Force canceled his visa citing he "failed to provide appropriate evidence to meet the entry requirements."
The fact that Djokovic was granted vaccine exemption hasn't been received well in Australia where more than 90 percent of people overages of 12 have been fully vaccinated against Covid-19. Prime Minister Scott Morrison tweeted, "No one is above these rules." At a news conference later he added that Djokovic's exemption was not valid, further raising questions over authorities who granted the same. No details were however shared.
Serbian President Aleksandar Vucic has come out in support of the player, calling the whole incident a "harassment."
Former Davis Cup player, Australia's Paul McNamee, who ran the Australian Open from 1995 until 2006 as tournament director thinks that Djokovic deserves to play. "It's not fair. The guy played by the rules, he got his visa, he arrives, he's a nine-time champion, and whether people like it or not he's entitled to fair play." He added, "There's no doubt there's some disconnect between the state and the federal government. I hate to think politics are involved but it feels that way."
Related Posts
Djokovic has not been explicit on his vaccination status against Covid-19. In April 2020, he issued a statement saying: "Personally I am opposed to the vaccination against COVID-19 in order to be able to travel. But if it becomes compulsory, I will have to make a decision whether to do it or not." It is however now clear that he did not, in fact, get vaccinated against the coronavirus.
Rafael Nadal has said that though he felt sorry for Djokovic, he said that the Serbian fellow knew the potential problems he could face for not getting vaccinated. "Of course, I don't like the situation that is happening," Nadal said to the media after winning his match at the Melbourne Summer Set ATP 250 tournament. "In some ways, I feel sorry for him. But at the same time, he knew the conditions a lot of months ago, so he makes his own decision."
Meanwhile, Djokovic has launched legal action in Australia's Federal Circuit Court against his visa cancellation, thus preventing his deportation so far. He is currently staying in an immigration detention hotel before Monday's scheduled hearing. Clearly, this episode is far from over!