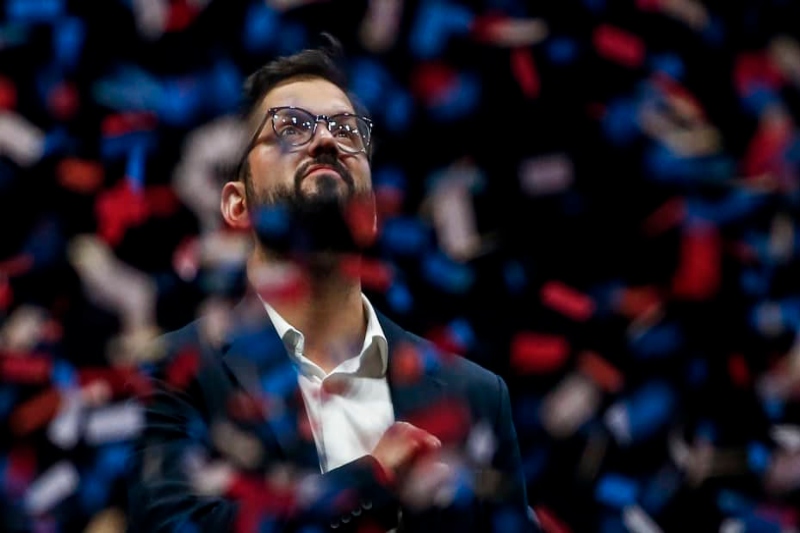 chile president gabriel boric (1)
Chile: Boric vows to 'protect rights of poor' as president
Chile
Gabriel Boric has pledged to unite Chile, tackle poverty and fight "the privileges of the few" after emerging victorious over his far-right opponent to slate himself as the South American country's youngest president.
Speaking to supporters, President-elect Gabriel Boric thanked the people of Chile.
"I accept this mandate with a sense of responsibility. We are standing on the shoulders of giants," Boric said in front of a huge crowd packed into Santiago Boulevard.
"All of this is tremendously exciting. The eyes of Chile and the globe are watching, thanking all Chileans who voted, honoring their adherence to democracy," he said. 
"Dear people of Chile, the future of our country is at stake. I promise you that I will be a president who will not jeopardize democracy but take care of it, a president who listens to the masses, seeks unity, and looks after people's daily needs. I will work every day for Chilean families."
He said his generation wanted to be respected and not be treated "like a business", adding that he would no longer let the poor "pay the price" of inequality.
Related Posts
The president-elect said the time was ripe for a radical overhaul of the society and its economy.
According to media reports, Boric will take oath as President on March 11.
With 99.95% of ballots counted, Gabriel Boric won with 55.87% of the vote, leading over his right-wing opponent, Jose Kast, who trailed with 44.13%, as per the Electoral Service of Chile. 
The 35-year-old leftwing belongs to a generation deeply sidelined by the extreme economic model adopted by the Chilean Pinochet dictatorship.
Earlier Sunday, Kast conceded his defeat and congratulated Boric "on his great triumph."
"From today, Boric is the elected President of Chile. He deserves constructive collaboration and all our respect. Chile is always first," Kast said on Twitter.
"It doesn't matter if you guys did it for my opponent or me; the essential thing is that you did it; you showed your commitment to this country, which belongs to each of you."
Meanwhile, the outgoing Chilean President, Sebastian Pinera, also congratulated Boric saying, "Chileans have been the true example of democracy. I congratulate you."