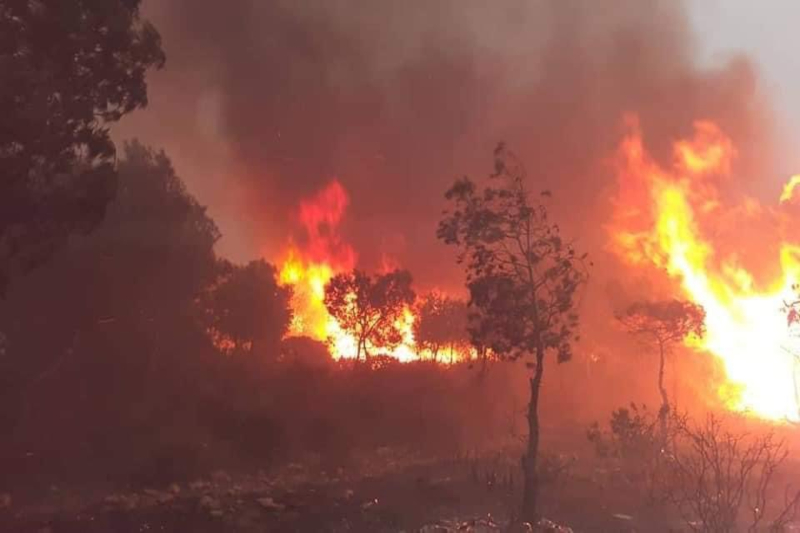 algerian wildfires
Were Algerian Wildfires Instigated By Moroccan-Israeli Terrorist Outfits?
Algeria is now blaming terrorists' groups as the ones who have led to massive wildfires in their country. Of the two named by them, they claim that one has been backed by Morocco and Israel together.
According to an official statement by the Presidential office, at least 22 people were arrested for having started the deadly fire. But more weight is being pushed on the Islamist Rashad group and MAK (Maktab al-Khidamat), an autonomy movement for the mostly Amazigh-speaking Kabylie region.
Both these were designated as terrorist organizations by Algeria this year. According to the official statement released by the Presidential office, MAK "gets support and funding from foreign parties particularly Morocco and its Zionist entity." Here, it seems they have made an indirect link to Israel.
Related Posts
Algeria and Morocco have not been cordial neighbors for a long time. Apparently, Algeria continues to support an armed Polisario movement to get back Western Sahara that is disputed between both nations. Meanwhile, Israel has maintained strong diplomatic ties with Morocco.
Algeria does not recognise Israel, referring to it in official statements only as the Zionist entity. But all this has gone in its favor and the wildfire could just be an opportunist move to get back at Algiers.
Wildfires have been a resultant of global warming take a toll over Northern African continent. But the effect on Algeria has been devastating. Several provinces have been wiped out especially, Tizi Ouzou in the Kabylie region, east of the capital Algiers.
While Rabat has shown desire to support by offering to send help to combat the fires, Algiers has given a cold response. Israel has been looking at ways of prominence in the Middle East. With Morocco wishing to also climb the bandwagon, both have entered to a couple of strategic trade agreements. The recent has seen Morocco inviting Israeli farmers to come and grow their superfood Avocado as global demand is on the increase. Both countries have already signed three strategic agreements related to the fields of politics, culture, youth and sports as well as air services.