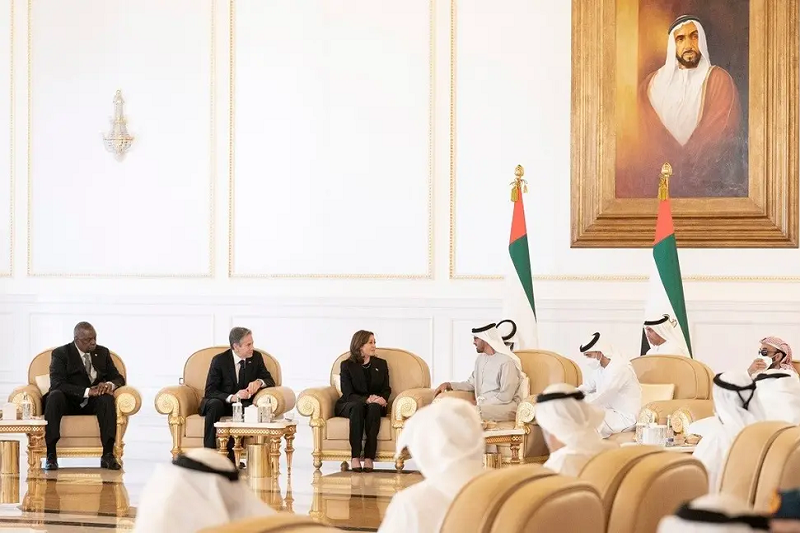 uae us ties expected to improve with sheikh mohameds leadership
UAE-US ties expected to improve with Sheikh Mohamed's leadership
US President Joe Biden was among the top world leaders who congratulated the newly-appointed UAE President Sheikh Mohamed bin Zayed last week. In addition, the US President sent a high-powered delegation led by Vice President Kamala Harris to the Emirati capital Abu Dhabi to extend respect to the late UAE President Sheikh Khalifa bin Zayed Al Nahyan.
In a statement issued by the White House, the US President expressed keenness in strengthening the strategic relationship between the two countries. He further described Sheikh Mohamed as his "long-time friend" and the UAE as an "essential partner" of the United States.
"I look forward to working with Sheikh Mohammed to build from this extraordinary foundation to further strengthen the bonds between our countries and peoples," Biden added.
According to political analysts, Biden's decision to send the US top leadership to the UAE is a major initiative by Washington to enhance relations with its Gulf ally.
For Abu Dhabi, Washington continues to be a paramount ally in the West. At the same time, the UAE has prioritised to encourage bilateral ties and diplomatic talks with Russia and China. In the current geopolitical circumstances, the UAE is diversifying its foreign-policy options to establish its stronghold on the international stage.
Related Posts
Amid these efforts, Washington's endeavours to bolster ties with Abu Dhabi are aimed at re-instigating the decades-old trust and strategic partnership between the two friendly nations.
Biden regarded Sheikh Mohammed as a leading frontrunner of building the UAE-US partnership. Significantly, with the new Emirati leadership taking the reign, Biden is getting a pertinent opportunity to deepen the ties.
During a meeting with UAE President Sheikh Mohamed, US Vice President Harris expressed the Biden administration's efforts to reaffirm the shared commitment to enhance security and prosperity in the region under the new leadership.
"The Vice President noted that she is looking forward to the future of the relationship under Sheikh Mohammed's leadership, and that our friendship and partnership is enduring," a White House statement said.