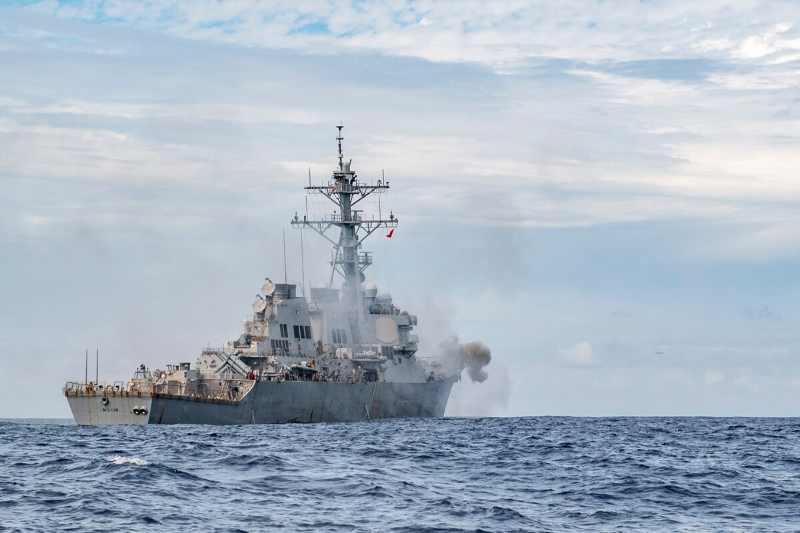 the philippines slams china's militarisation
The Philippines slams China's militarisation of the South China Sea with 200 vessels
The Philippines criticized China's militarisation of the disputed waters in the South China Sea by stationing 200 vessels in order to forcefully claim the region. Manila's maritime forces noticed the vessels beings docked at Whitsun Reef, which Manila calls Julian Felipe, on March 7. The country's National Task Force, which guards the West Philippine Sea, released pictures of the vessels lying side by side, highlighting the communist nation's "provocative action"
On Sunday, Philippines' defense secretary Delfin Lorenzana released a statement objecting to Chinese intervention in its territorial waters. Lorenzana, upholding his country's sovereign rights over the region, said, "We call on the Chinese to stop this incursion and immediately recall these boats violating our maritime rights and encroaching into our sovereign territory."
Southeast Asian nation's task force, which reported against Beijing's military manning 220 vessels lined up in the disputed waters, said in a statement, "Despite clear weather at the time, the Chinese vessels massed at the reef showed no actual fishing activities and had their full white lights turned on during night-time." It added that the presence of Chinese ships was "a concern due to the possible overfishing and destruction of the marine environment, as well as risks to the safety of navigation".
Manila's foreign secretary, Teodoro Locsin, said that the country filed an official report late on Sunday against China's arbitrary move. The contested region is a boomerang-shaped, shallow coral region about 175 nautical miles (324km) located the west of Bataraza town in the western Philippine province of Palawan. Manila's government watchdog claimed that it was the country's exclusive economic zone, over which the Philippines "enjoys the exclusive right to exploit or conserve any resources".
Related Posts
The Philippine military chief, Lieutenant General Cirillo Sobejana said the military's "utmost priority remains to be the protection of our citizens in the area, particularly our fishermen, through increased maritime patrols".
So far Chinese embassy has remained silent over the issue. But critics in the Philippines have blamed President Rodrigo Duterte, for adopting the non-confrontational approach and developing friendly ties with Beijing despite its stepping into the Philippines' territory. In his defense, about two years ago, Duterte said, "When Xi says 'I will fish,' who can prevent him?" He added, "If I send my marines to drive away from the Chinese fishermen, I guarantee you not one of them will come home alive".