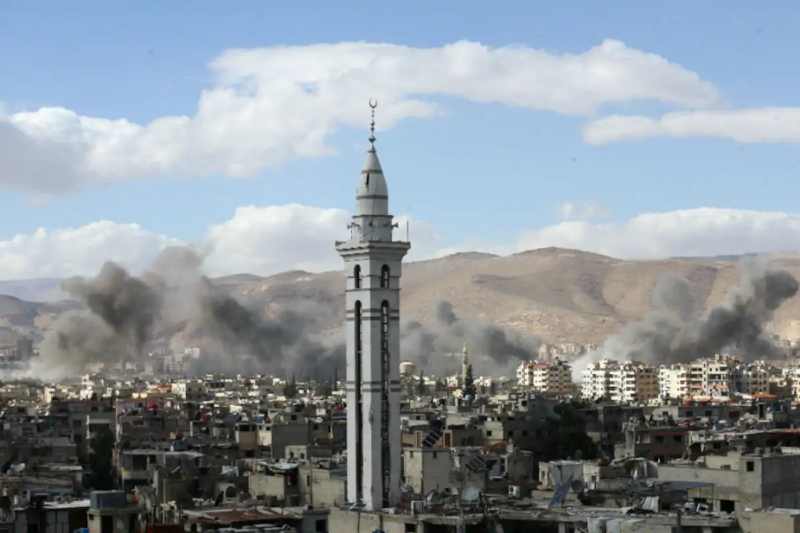 syrian civil war
Ten years to Syrian Civil War: the worst man-made disaster after World War II
March 15th,2021 will mark 10 years into the worst man-made disaster after World War II – the Syrian Civil War. The war that started in March 2011 as pro-democracy protests across Syria against the government led by President Bashar al-Assad soon turned into a monstrous war that is ten years old and still the devastation caused is too huge and horrific to comprehend.
The protests were engulfing the whole region of the Middle East with neighboring nations' protests leading to toppling off of governments – that marked the uprising of "Arab Spring". In 2011 it looked like the Assad dynasty, which was into its fourth decade of ruling, would be the next domino to fall in the tumultuous series of pro-democracy protests in the region. On the contrary, Assad is still there ten years later, and humanity is witnessing the planet's worst conflict in a century. The unfathomable violence and humanitarian crisis have made Syria the defining disaster of the early 21st century.
Syrian War led to displacement of over half of its population of 22 million, largest since World War II. 6.6 million have been internally displaced. The country is fighting for its existence and at the verge of being swept off. Civilian suffering continues even as the crisis has faded from headlines. Syria is more of a battlefield for competing external forces in form of Russia, Iran and Turkey.
At present, around 60% of the Syrian population or 12.4 million are facing food insecurity and don't know when and from where their next meal would come. 90% of the Syrian population is now below the poverty line. Children around age 10 years have spent their entire life not having access to school. People have had to face the worst human tragedies and sufferings in form of Islamic State group attacks, chemical attacks, and the refugee crises. The people that fled the Syria warzone, found themselves stranded at the European shores, sparking political and diplomatic opinions that shaped another crisis in form of refugees and migrants.
Furthermore, in the chaos of Syrian conflict, emerged the most violent jihadist group that reshaped the face of global terrorism – the Islamic State group – that proclaimed the overlapping Syria and Iraq.
According to the Syrian Observatory for Human Rights, a UK-based war monitor, at least 400,000 people have died in the last 10 years in Syria. 117,000 civilians out of this were killed by the government that never shied away from turning against its own people in the worst possible way. Pockets of resistance have been attacked by the government using chemical attacks, dense areas of the population were raided with crude barrel bombs, and also resorted to siege and starvation strategies in a systematic manner.
The healthcare framework and infrastructure in Syria has faced unimaginable destruction, in a way that its not able to tend to the sick and needy. The year 2015 alone saw bombings that destroyed 63 hospitals entirely, killing thousands of hospital staff and patients including hundreds of 'doctors beyond borders'.
Related Posts
Children have not been spared the despair and have faced a major share of agony. Since the start of conflict in 2011, some 9000 children have been killed. With over 700 schools been destroyed, now over 40% of children in the country don't attend schools.
The 'trapped' innocents are thousands of children of foreign fighters that are now living in overcrowded camps in Syria, Iraq, and Turkey. Living conditions are unsanitary to the extreme with no access to education and basic healthcare. At least 400 French children, whose parents are or were militants in Syria, are trapped in Roj Camp, Syria for the fourth year now. And this is just one example. Like this many children are trapped in camps away from their nations and better living.
Questions around their repatriation don't seem to reach a concluding decision, adding to their anguish as these children are as innocent as it comes and are themselves a victim. Concerns over these children's upbringing and whether they would be a threat to other countries are the reasons for this delay in solution. Some of the children have however been repatriated, some have not as their mothers don't want to be separated.
It is heart-wrenching for anyone to see the condition of Syria, one of the youngest countries in the region, and to realize that in 2011 most of its population wasn't even born. 10 years later the agony and suffering of people continue… in hope for a better tomorrow.