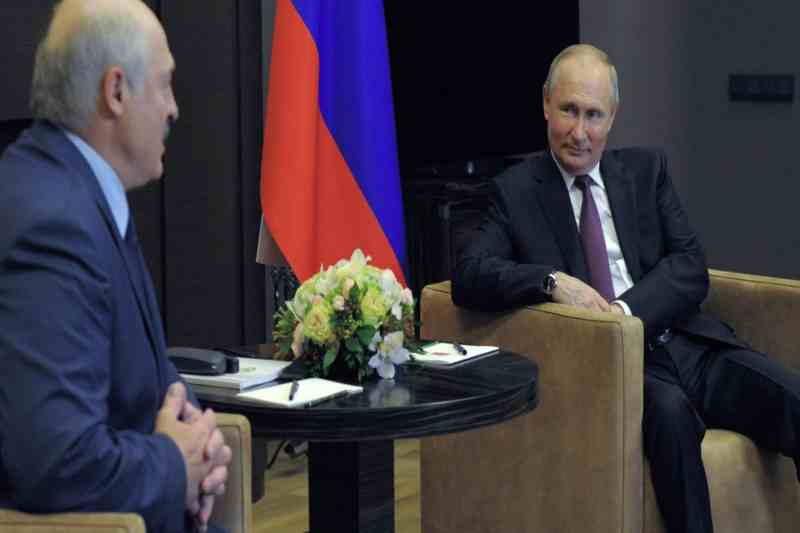 putin asserts his support for belarus
Putin asserts his support for Belarus amid plane diversion scandal
Russian President Vladimir Putin has asserted his support to his Belarusian counterpart, Alexander Lukashenko, amidst Western fury over the diversion of a jet to the Belarus capital from which a dissident journalist was offloaded.
They both met in the Russian resort city of Sochi where Putin and Lukashenko discussed the crises in detail.
Russia happens to be Belarus's close ally that thinks of the ex-Soviet republic of 9.5 million as an important buffer to its west. Russia had offered verbal support to Belarus before the Putin meeting, which experts thought was insufficient to Minsk.
Russia and Belarus are formally part of a "union state" and have been in talks for years to integrate their nations further. 
Moscow had earlier dismissed speculations that it itself was complicit in the incident.
Related Posts
Russian Foreign Minister, Sergei Lavrov, accused West of "demonizing" Belarus, saying that the has shown a willingness for transparency in the row. He described the West's reaction to the incident as "utterly shocking". 
Putin recalled when the Bolivian president, in 2013, was forced out of the plane in Austria and said that the reaction from the West was "nothing but silence". The United States was then trying to intercept a whistle-blower named Edward Snowden.
The West has blamed Belarus for 'air piracy' and the EU has urged all Europe-based airlines to avoid its airspace. There has been constant pressure for the release of Roman Protasevich and his girlfriend, Sofia Sapega.
The outrage comes after Belarusian air traffic control informed the Ryanair pilot, on Sunday, of a hoax bomb threat and scrambled a MiG-29 fighter plane to get the plane down to the ground, before arresting journalist Roman Protasevich, a critic of Lukashenko.
He is currently in jail and is accused of orchestrating mass riots. Roman could be jailed for about 15 years.