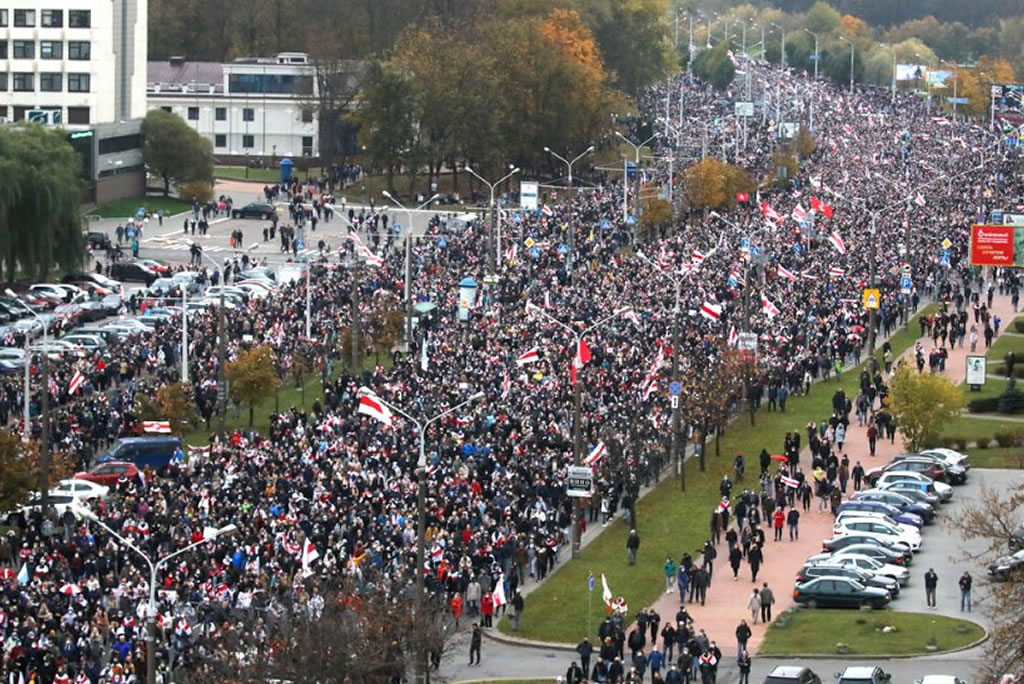 Belarus protests: hundreds detained, yet thousands marched through Minsk opposing Lukashenko's regime
Belarus has been rocked by nation-wide protests demanding the country's longstanding leader, Alexander Lukashenko, to step down from the President's office. The protestors who have been protesting for past 12 weeks, since Lukashenko took over as the country's official head in August, claimed that he got in power through rigged elections.
On Sunday, despite riot police firing warning shots in the air, using stun grenades, and detaining more than 200 people to deter the protests, tens of thousands marched on Minsk's roads expression their rage against Lukashenko's rule.
Lukashenko, who categorically clarified that he has no intention to resign, with response to the surge in protests said that any protestor who lays hands on any official patrolling the protests, should "at least leave without hands". He incorporated various steps to suppress the ongoing protests including, installing armoured off-road vehicles equipped with machine guns, along with water cannon vehicles and other anti-riot equipment. These armed vehicles were placed for the first time in last three months of continuous protests.
Besides, to prevent mass gatherings the authorise also blocked internet service, shut several metro stations, ordered universities to expel students from who have been participating in demonstrations and are even prepared to take action against plant workers that go on strike. To calm the uprising all across the nation, Lukashenko said he was open to discuss reforms but his actions don't quite match his words.
Dissent is losing its strength in the country as so far the authorities have detained over 15000 demonstrators protesting against the state head since his election win in August. Human rights activists claimedthat out of the total detainees more than 100 have been political prisoners. Most of Lukashenko's political opponents have either been put behind the bars or have flee the country.
"The authorities are trying to close the lid on the boiling Belarusian pot more tightly, but history knows very well what this leads to," Viasna leader Ales Bialiatski said.
Sviatlana Tsikhanouskaya, a human rights activist and the politician who ran for 2020 presidential elections as the main opposition candidate, extended her support towards the ongoing protests. She issued a statement saying, "The terror is happening once again in our country right now. We have not forgotten our past, we will not forget what is happening now." She challenged the election results in which she got 10 per cent of the vote opposed to president Lukashenko, who secured 80 per cent. She is now in Lithuania as post elections she left Belarus due to pressure from the authorities.