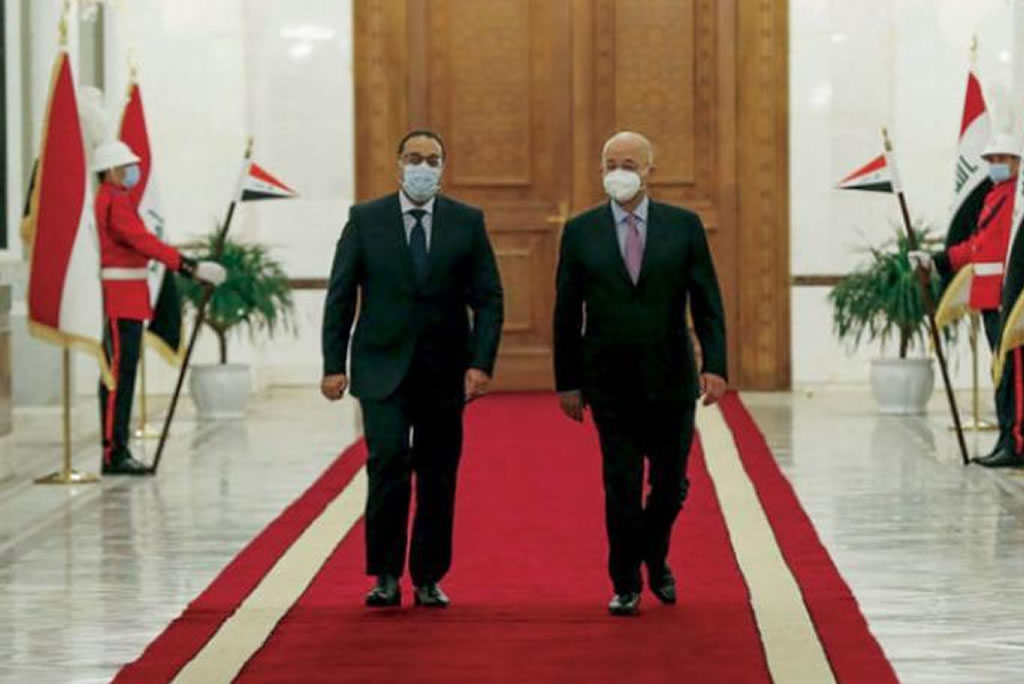 Iraq and Egypt sign 15 major agreements to strengthen their bilateral relations
Last updated on February 25th, 2022 at 05:00 am
On Saturday, Iraq and Egypt marked 15 important agreements, Memorandum of Understandings (MoU), and bilateral cooperation protocols to boost the Egyptian – Iraqi relations.
Among these agreements were water resources, judiciary training, oil, and environmental protection, and trade. The meeting was jointly led by Prime Minister of Egypt Mostafa Madbouly and his Iraqi ally Mustafa Al-Kadhimi.
The two nations also marked MoUs concerning medicines, health, roads and bridge construction, maritime logistics, organizing exhibitions, housing and construction, customer protection, investment, and industrial cooperation.
Egyptian PM Mostafa Madbouly spoke before the Iraqi cabinet, stating that "Today, we bring a message of solidarity and congrats to Iraq, which prevailing by its kin's fortitude, hard work, and sacrifices to beat terrorism, and conquer this impending worldwide peril which undermines all nations and social orders of the world."
Madbouly likewise adulated Iraq's primer agreement of building up an oiling mechanism in return for development. Iraqi PM Mustafa Al-Kadhimi expressed gratitude toward the Egyptian public and President Abdel Fattah al-Sisi for the medical aid during the coronavirus pandemic crisis.
The two nations consented to fortify ties in March 2019, plus, recently, Sisi met with Adel Abdul-Mahdi in Cairo to discuss methods for boosting joint Egypt-Iraq collaboration, particularly in trade, commerce, and economic sectors.
The agreements signed with the Iraqis would help increase employment in the region, and Egypt is all set to build cooperation in the electrical interconnection venture with Iraq, and Jordan, Madbouly added.
The conference concluded with a principle agreement on the significance of setting up the oil-for-reconstruction mechanism. Madbouly mentioned that the meeting commenced at a crucial time, during which the entire region was seeing successive growth.
To face these common challenges like, the pandemic, economic crisis, terrorism, healthcare systems, growth, and infrastructure, Egypt and Iraq require cooperation and strategic partnership.
The pioneers further discussed investment opportunities accessible to the two nations, just as a collaboration with other Arab nations, particularly in view of the tripartite summit scheduled on Sunday with King Abdullah II of Jordan in Cairo.