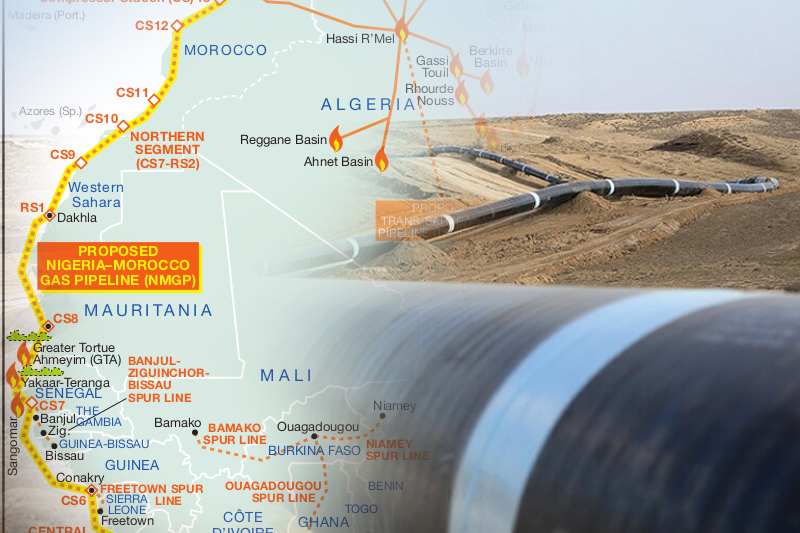 nigeria morocco gas pipeline project kicks off to also supply europe west africa
Nigeria-Morocco gas pipeline project kicks off, to also supply Europe, West Africa
The memorandum of understanding on the Nigeria – Morocco gas pipeline project (NMGP) was agreed and inked by the leaders of the National Nigerian Petroleum Company Limited (NNPC), the Moroccan Office of Hydrocarbons and Mines (ONHYM) and a senior official of the Economic Community of West African States (ECOWAS) in charge of energy, according to a joint statement. The text signed "confirms the commitment of ECOWAS and all the countries involved to contribute to the feasibility of this important project", the statement said. The MoU was signed on Thursday in Rabat.
Though a definite timeline hasn't been set for the project completion, the agenda behind the NMGP has geopolitical context – efforts to fill in the rising gap of gas and oil demand in Europe amid reduced supply and increased gas prices triggered by Russia's war in Ukraine.
Keep Reading
The 6,000 km Nigeria – Morocco gas pipeline project will cross 13 African countries running along the Atlantic coast and will supply the landlocked states of Niger, Burkina Faso and Mali, according to the released statement. The pipeline is expected to bring over 5,000 billion cubic metres of natural gas to Morocco, from where it will be connected directly to the Maghreb Europe Gas Pipeline (GME) and the European gas network. The Saudi Arabia based Islamic Development Bank and the OPEC Fund for International Development have pledged nearly $60 million towards financing feasibility and engineering studies for probably one of the longest gas pipelines.
The signing of the NMGP memorandum that was announced at the end of 2016, comes as regional rivalry between Morocco and Algeria reaches new heights. The crisis between the two nations resulted in the rupture of their diplomatic relations in 2021. After this, Algeria denied Rabat of its gas by shutting down the Maghreb-Europe gas pipeline (GME) in October that carried gas from Algeria to Spain and transiting through Morocco.