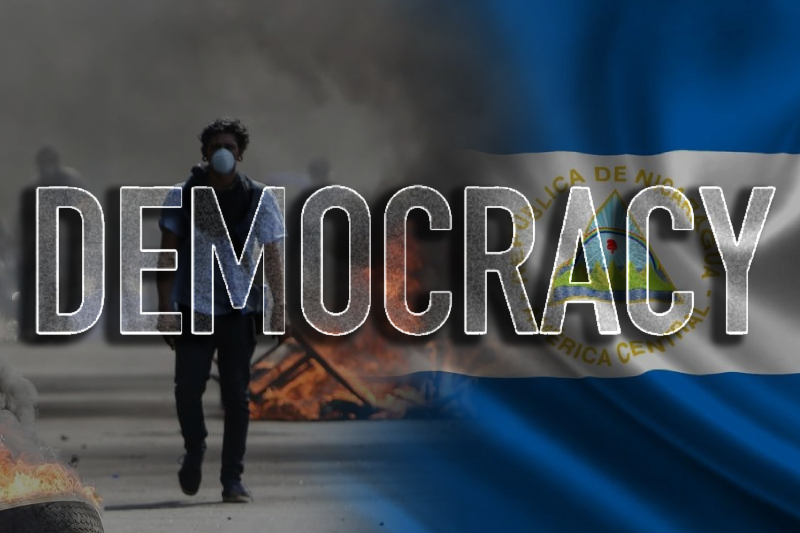 nicaragua democracy
Nicaragua's freedom is in a questionable state
Democracy in Nicaragua is hanging by a thread and its citizens are thinking that it may slip very soon into the hands of the dictatorship. Their President Daniel Ortega used his undisputed power to crack down and take disadvantage of country's police and courts to fulfil his political favours. Treating the opposition with brutal efficiency, he made 13 leaders from the opposition party arrested on the grounds of "national security" violations. Human Rights say it is a clear sign that the President is doing his best to eliminate dissent and crush any competition ahead of the upcoming general elections in November.
This entire propaganda began with the arrest of prominent presidential candidate Cristiana Chamorro Barrios, who was earlier investigated on allegations that she mismanaged a non-profit free press advocacy organization. After the day of her announcing her candidacy, authorities raided her home and arrested her by saying she was involved in abusive management, ideological falsehood in competition with the crime of laundering money, goods and assets, to the detriment of the State of Nicaragua. Even though she hails from the sound background of Nicaragua's preeminent family and she was seen as an ideal candidate that would beat Ortega in November elections.
Related Posts
The reason why all Americans should pay attention to this is that instead of working with opposition groups and protesters to find a peaceful solution, Ortega's government took the opposite approach. They went all intense and forceful by violating human rights. They detained thousands of people who participated in the protests and even prevented the injured people from gaining access to emergency medical care as a form of retaliation for their participation in the protests. Universities became ground zero as pro-government forces attacked students who had been holed up in defiance against the government, killing at least two people in one deadly incident, human rights group CENIDH reported.
With much international pressure, the government has though agreed international organizations to investigate the deaths of hundreds of protesters and release some of those imprisoned on what the IACHR called "unfounded and disproportionate charges." Acting Assistant Secretary for the US Department of State's Bureau of Western Hemisphere Affairs, Julie Chung, mentioned that Ortega had a chance to follow through on his commitment to allow free and fair elections, but instead he was playing another game. Se explained that their government is fearful of losing to a free and fair, transparent system. They see democracy as a threat and it would give more power in the hands of the people, this is why he has triggered these kinds of actions as no confidence in their ability to support people.