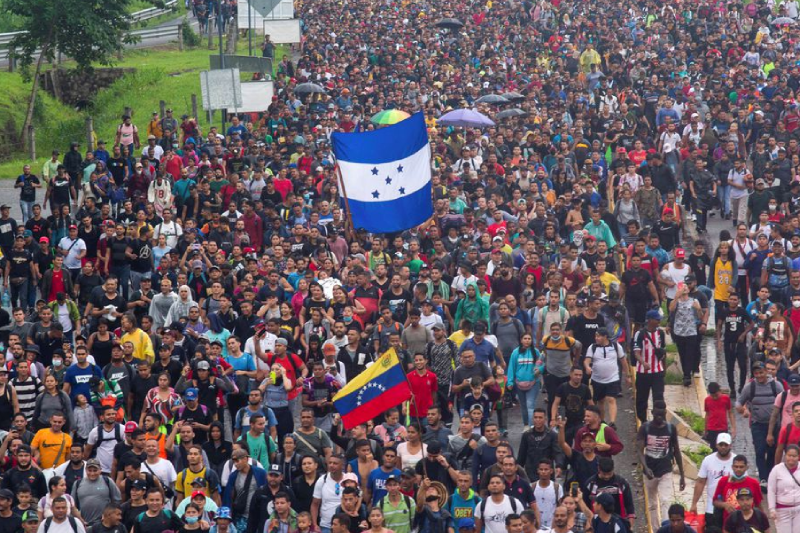 massive migrant caravan heads to us to coincide with summit of the americas
Massive migrant caravan heads to US to coincide with 'Summit of the Americas'
Migrants in thousands have embarked upon their journey to the US-Mexican border in a caravan which is perfectly timed to coincide with a meeting of leaders of the Western Hemisphere in Los Angeles.
At least 6,000 people, also including many migrants from Venezuela and Central America, have started their on foot travel from the southern tip of Mexico towards the north as part of a caravan. These people are mainly the vulnerable groups that want to flee their country due to instability, poverty and violence.
Migrants and migration
Migration is one of the blazing topics of United States and Central as well as South America, and also among the top issues on the agenda at Los Angeles scheduled Summit of the Americas.
Keep Reading
The journey of massive migrant caravan began on Monday as the group began its 1,270 mile (2,000 km) long journey to the United States from the Mexican city of Tapachula, located near the country's border with Guatemala. It is, however, still unclear about the exact time of arrival of the caravan at the northern frontier.
A fight for the better future
Robinson Reyes, a 35 year old Colombian migrant said he was traveling north after having waited for a month in vain in Mexico. He was waiting for a humanitarian visa. "We want a future for our family," he told Reuters. "We are not violent. We just want a better future."
Talking about the timing of the caravan departure and confirming to reach US to coincide with the summit, he said, "That's why we went out today. God willing, they can talk and resolve this."
Leaders take a stand against White House
Mexican President Andrés Manuel López Obrador had announced earlier this week that he would not attend the summit after the White House had announced that Venezuela, Cuba and Nicaragua would be excluded from the summit at Los Angeles. It is to be noted that all these countries are significant sources for migrants.