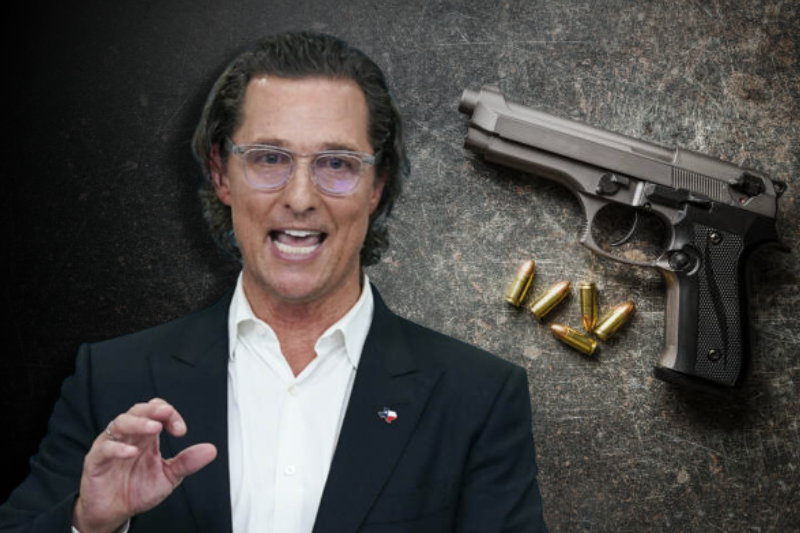 gun control matthew mcconaughy delivers passionate plead for gun legislation at white house
Gun Control: Matthew McConaughy delivers passionate plead for gun legislation at White House
Matthew McConaughey, the celebrated Hollywood actor and also a gun owner, on Tuesday made an emotional plea for need of legislation on gun control. Delivering a passionate plead at White House, McConaughy urged the US lawmakers to pass gun control legislation and insisted Congress to "reach a higher ground".
The Academy Award–winning actor called measures to be imposed, including bolstered background checks for gun purchases and to raise the minimum age to buy an AR-15-style rifle from 18 years to 21. "We want secure and safe schools and we want gun laws that won't make it so easy for the bad guys to get the damn guns," McConaughey said.
Renewed urge for action in wake of Uvalde school shooting
His speech comes after 19 students and 2 teachers were killed in last month's mass shooting at an elementary school in his hometown of Uvalde in Texas on May 24.
Speaking about his connections to the town, McConaughy said his mother was a kindergarten teacher and taught less than a mile from Uvalde's Robb elementary school. "Uvalde is where I was taught to revere the power and the capability of the tool that we call a gun," he said.
The passionate plead
Delivering a highly personal and passionate 22-minute speech at the White House, McConaughey pressed the Congress to pass gun reforms that can potentially save scores of lives without invading anyone's Second Amendment rights.
McConaughey, who himself is a gun owner, used his star charisma and power to steer the horrors around the case into need for a concrete and urgent action. "We are in a window of opportunity right now that we have not been in before. A window where it seems like real change can happen."
Striking a personal and emotional touch, he told the story of Maite Rodriguez, an aspiring marine biologist, who was killed in the shooting. McConaughey's wife, Camila, held Maite's green Converse sneakers, with a red heart on the right toe to represent her love of nature. "These are the same green Converse, on her feet, that turned out to be the only clear evidence that could identify her after the shooting," McConaughey said.
Before delivering the speech to White House press corps in James Brady briefing room, McConaughy briefly met President Joe Biden. He also met key lawmakers this week, including the Senate majority leader, Chuck Schumer; Dick Durbin, the chairman of the Senate judiciary committee, which handles gun legislation; and the panel's ranking Republican, Senator Chuck Grassley of Iowa.
"We need to invest in mental healthcare. We need safer schools. We need to restrain sensationalized media coverage. We need to restore our family values. We need to restore our American values and we need responsible gun ownership," McConaughey said.