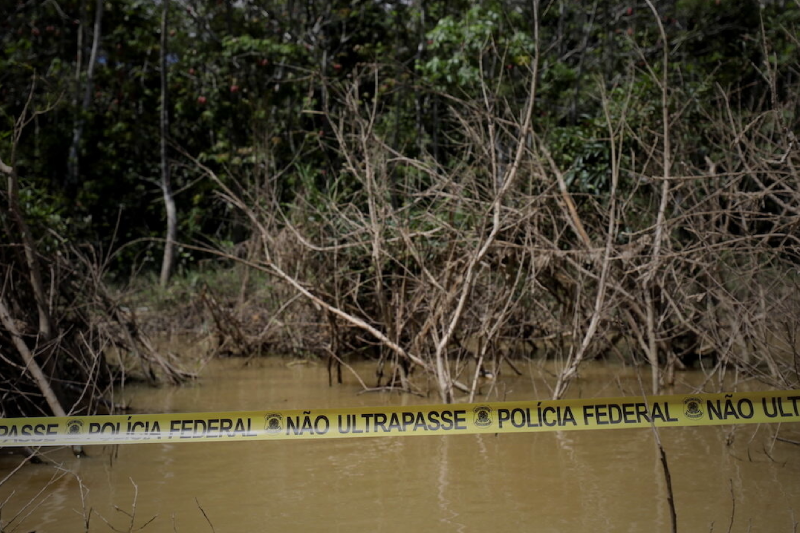 2nd suspect arrested into in connection with missing pair in brazilian amazon
2nd suspect arrested into in connection with missing pair in Brazilian Amazon
Brazilian police have said that they have detained a second man in connection with "the alleged murder" of the British journalist Dom Phillips and Brazilian Indigenous defender Bruno Pereira who went missing from Brazil's Amazon while they were on boat on June 5.
Oseney da Costa de Oliveira, 41, was arrested by the police on Tuesday and is being held in Atalaia do Norte, the isolated river town where Phillips and Pereira on way to when they vanished. The federal police said in a statement that Oliveira, also known by nickname
"Dos Santos", was arrested "on suspicion of involvement in the case". His brother Amarildo da Costa de Oliveira is also in custody since last week and is the prime suspect.
Keep Reading
The civil police chief Alex Perez told the reporters that Oliveira did not resist his arrest from his home in Atalaia da Norte. "Witnesses placed them both at the scene where the crime supposedly took place," said Perez. When asked by The Guardian that what specific crime were the basis of arrests, Perez said, "Suposto homicídio qualificado" ("alleged aggravated murder").
The investigators into the case suspect that Amarildo da Costa de Oliveira, also known as Pelado, had ambushed Dom Phillips and Bruno Pereira as they were travelling down Itaquai river while returning back from their trip that was four days long. But Pelado has denied any involvement and claimed that he did not leave his house in Sao Gabriel village on the day when the two men went missing.
The search for Phillips and Pereira is continuing after their backpack, laptop and other personal belongings were discovered on Sunday submerged in the river. However, the police have confirmed that no bodies have been found. They were last seen on June 5 near entrance of Javari Valley Indigenous Territory, at border of Peru and Colombia.