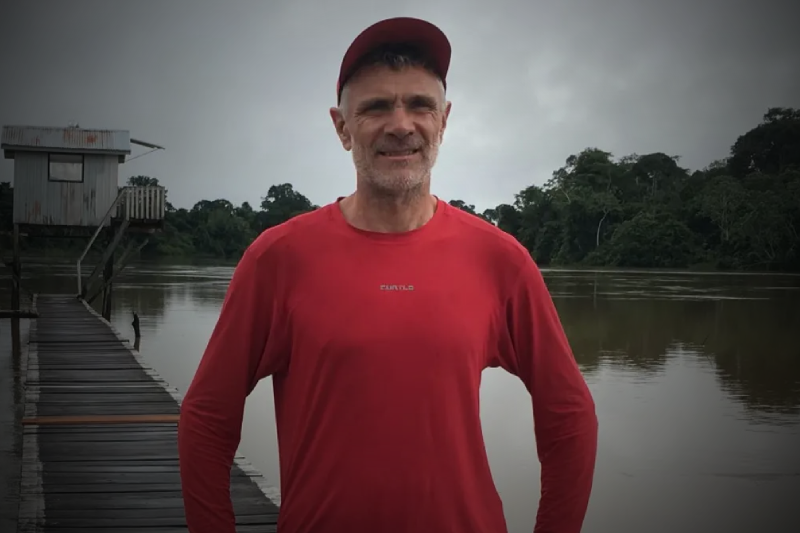 british journalist missing in brazilian amazon wife appeals for urgent actions
British journalist missing in Brazilian Amazon, wife appeals for "urgent actions"
On Sunday morning, Dom Phillips, a British journalist and a long time contributor for The Guardian, vanished from Brazil's Amazon. He was at that time on boat traveling through Javari region of Amazonas state. His wife, Alessandra Sampaio has urged the Brazilian authorities to "Please answer the urgency of the moment with urgent actions".
The remote area of Brazilian Amazon from where Phillips has gone missing is known to be notorious for illegal mining and drug trafficking. The British journalist was in the area to research for his in-works book on conservation.
Sampaio, a Brazilian, who lives with her husband Phillips in country's north eastern city of Salvador said, "As I make this appeal they have been missing for more than 30 hours … [and] in the forest every second counts, every second could be the difference between life and death."
"All I can do is pray that Dom and Bruno [Araújo Pereira] are well, somewhere, and unable to continue with their journey because of some mechanical problem, and that all this will end up being just another story in these full lives of theirs," she added.
Gone missing while on research
57-year old Phillips was with Bruno Araújo Pereira, a celebrated Indigenous expert who for years has been working to protect over two dozen tribes in the Amazon rainforests who call the area as their home.
They were due to reach Atalaia do Norte on Sunday morning after entering the reserve by river the previous week. But they never reached their destination.
Second day of search operation goes without any success
Second day of search operations came to an end with no success in finding any whereabouts of the men. On Monday night, the journalist's sister, Sian Phillips, said in a video statement, "We knew it was a dangerous place but Dom really believed it's possible to safeguard the nature and the livelihood of the Indigenous people."
"We are really worried about him and urge the authorities in Brazil to do all they can to search the routes he was following. If anyone can help scale up resources for the search that would be great because time is crucial," she said urging for people's help.
Phillips is a freelance journalist who has been reporting on Brazil for over 15 years. He had travelled to the Javari, which is believed to be home to the largest concentration of uncontacted people on Earth. In 2018, the British reporter joined Pereira, the Indigenous protection official, on a rare and harsh expedition through the Indigenous reserve which is of size of Austria. He had reported about the reserve on for the Guardian.