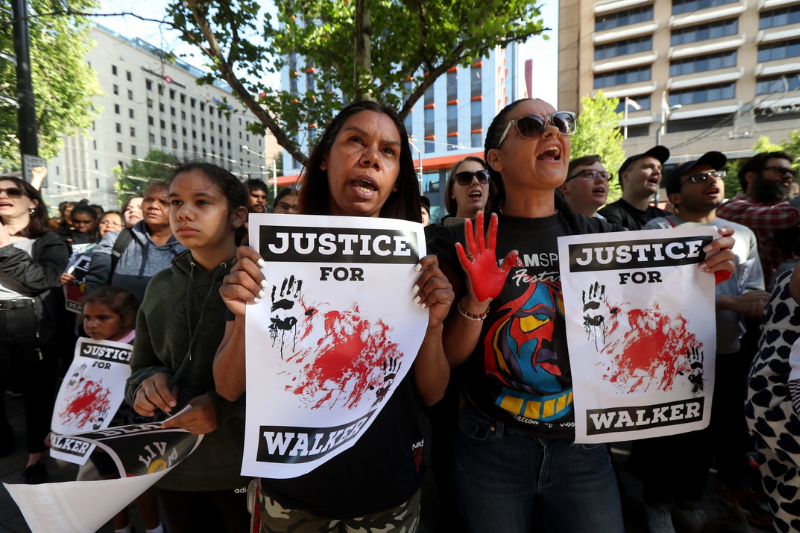 Jayland Walker shot by police, seen in body camera evidence
Jayland Walker shot by police, seen in body camera evidence
After a car chase and foot pursuit, Akron police shot and killed an unarmed Black man. However, a shot appeared to come from the vehicle during the pursuit, and officers said they believed he was going to fire when they fired their firearms.
On Sunday, police released a video showing Jayland Walker, 25, being chased and shot by officers, which the mayor described as "heartbreaking," while begging for the community's patience as the state investigation into the shooting continues.
When officers tried to pull over Walker's vehicle for unspecified traffic and equipment violations, a shot was fired, and a transportation department video captured what seemed to be a muzzle flare emanating from the vehicle, according to Chief Steve Mylett. A "routine traffic stop" has been transformed into an issue of "public safety," according to Mylett.
A few minutes later, the car slowed down, and Walker exited the vehicle wearing a ski mask and escaped on foot, police said. One of the cops discovered a loaded handgun next to a wedding ring, as well as a handgun casing that looked like it had been shot out of his car.
The foot chase continued to a parking lot after an unsuccessful attempt to employ stun devices, where a crescendo of gunfire could be heard. Mylett said he has watched the video dozens of times and Walker's motions at the moment are difficult to determine. However, a still photo looks to show him "moving down to his waist area," and another appears to show him turning towards an officer and a third picture "captures a forward motion of his arm."
Related Posts
According to Myett, after the shooting, the policemen who fired the shots were held apart from one another and supervised by investigating officers who arrived on the site.
"Each officer, independent of each other, related that they felt Mr. Walker had turned and was motioning and moving into a firing position," he claimed.
Mylett stated that officers should always be "ready to explain why they did what they did, they need to be able to articulate what specific threats they were facing … and they need to be held to account."
The union president, on the other hand, told him that everyone is "fully cooperating" with the investigation and that he is suspending judgment on their activities until they provide their statements.
It is not yet clear how many bullets the eight police officers shot and how many times Walker was struck. Despite this, police say more than 60 wounds were detected on the body. According to Mylett, one officer can be heard saying that he was still alive, but Mylett says he was pronounced dead at the site.
"Body-worn camera footage is merely one view of the whole picture—before drawing conclusions, a complete, fair and expert investigation must occur," said Ohio Attorney General Dave Yost.
The standard procedure in such circumstances is for the police involved in the shooting to be paid administrative leave.
According to the department, seven of them are white, and one is black. As per the report, they've all worked for Akron police for between one and one and a half and six years and have never been disciplined, had complaints verified, or been involved in fatal shootings.
Family attorney Bobby DiCello claims that even after Walker had been taken to the ground, police opened fire on him and that officers handcuffed him before administering first aid.
"How it came to this with a pursuit is beyond me," DiCello said, adding that Walker's family doesn't know why he ran from the police. Walker was mourning the recent death of his fiancée, but DiCello claimed his family showed little indication of concern beyond that.
DiCello says, "he was sad, but he was getting through it." According to him, the ring recovered next to Walker's gun may or may not have belonged to him.
The family of Walker demands accountability, but they also want peace.
According to a statement given to CBS News by Walker's family, "Anger is fine. Anger is understandable. Violence is not. Let's uphold the dignity of Jayland's life as we peacefully demand justice for him."