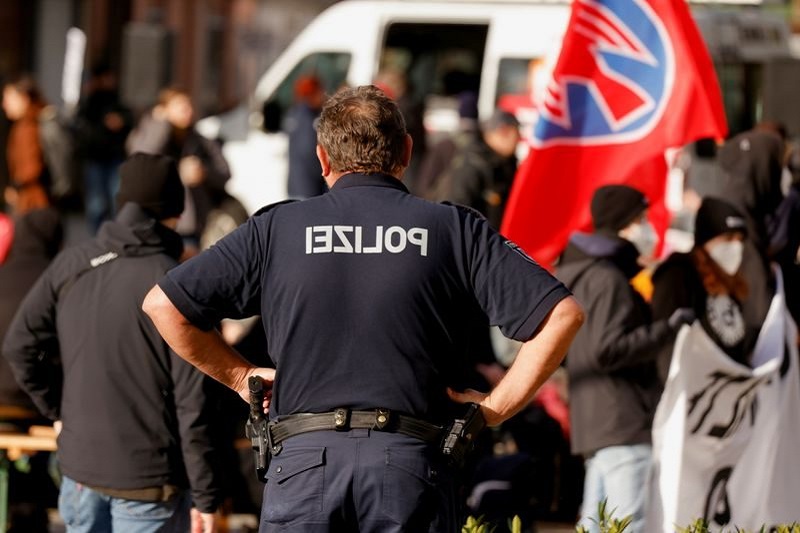 german police stop vigilantes from patrolling poland border
German police stop vigilantes from patrolling Poland border
German- German officials said, on Sunday, they had to stop more than 50 vigilantes who were patrolling along the border with Poland. 
The vigilantes were armed with batons, pepper sprays, and other weapons.
The group had answered a call by The Third Way (Der Dritte Weg) – a German far-right party – which had asked it to stop migrants from coming into Germany via Poland.
Police had seized their weapons, including bayonets and a machete, near the town of Guben.
The individuals were thus banned from going close to the border area.
Totaling about 30 people, the largest group was caught up with near the village of Gross Gastrose.
According to media reports, several members of the vigilante patrol had come from far-off parts of Germany – including Berlin and Bavaria – while others were more local.
Police claimed that they had been responding to a call by the far-right party, particularly active in Germany's eastern states – a splinter group of the neo-Nazi NPD.
Related Posts
It called for "border walks" to halt the flow of migrants – many from Syria and Iraq – from entering Germany.
Dozens of people in Guben – where Poland and Germany are separated by the Neisse River – came on to hold a vigil walk on Saturday to protest the far-right patrols.
Fred Mahro, Guben's Christian Democrat mayor, on the other hand, rejected any form of vigilantism.
Germany has deployed about 800 police officers on the Polish border to stop the flow of migrants from entering Germany.
According to reports, hundreds of officers are on duty in the area and if deemed necessary, officials have prepared to reinforce them even further.
Germany's Interior Ministerial said that the country had already recorded about 6,162 unauthorized entries from Poland and Belarus this year.
On the other hand, Poland has started to ponder upon constructing a €350 million euro wall on its border with Belarus to make migrants stay out.