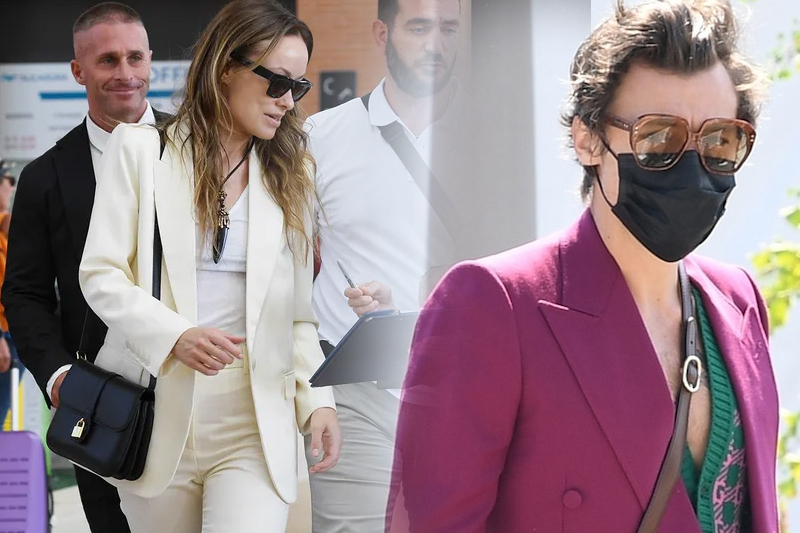 dont worry darling harry styles olivia wilde rock the venice film festival
"Don't Worry Darling": Harry Styles, Olivia Wilde rock the Venice Film Festival
Harry Styles and Olivia Wilde, the alleged real life love interests, have sent the internet into a tizzy as they made a grand entry at the Venice Film Festival 2022 where their new movie "Don't Worry Darling" was premiered on September 5, which is also the directorial debut of Olivia Wilde.
Olivia set the red carpet on fire donning a bright yellow gown for the big night, completing her look with silver chain detailing by Gucci. Harry Styles, the One Direction lead singer, looked dapper rocking a blue double breasted blazer, flared trousers, and a light-blue shirt with an oversize collar. A viral picture from the red carpet of the Venice Film Festival shows Harry and Olivia lovingly looking at each other.
The first trailer of the movie "Don't Worry Darling" was released this year in May. The movie is packed with suspense, drama and erotica. The Hollywood movie, directorial debut of Olivia Wilde, cast Harry Styles and Florence Pugh in the lead while Chris Pine, Gemma Chan, KiKi Layne, Nick Kroll, Kate Berlant, Sydney Chandler, Asif Ali, Douglas Smith, Timothy Simons, and Ari'el Stachel co-star in the movie. Harry Styles and Florence Pugh play roles of a married couple, living in a fictionalized community of Victory. The community Victory is described as an "experimental town housing project that houses the men working for the top-secret Victory Project and their families".
Keep Reading
At the film festival's press conference, Olivia addressed the ongoing drama around her film and specifically about rapport between her and Pugh. She said, "Florence is a force, we are so grateful that she is able to make it tonight despite being in production. As for all the endless tabloid gossip and noise out there, the internet feeds itself. I don't feel I need to contribute to it."
Olivia Wilde and Harry Styles have been extremely private about their romance and recently the former made a rare comment about why the couple prefer to keep their relationship private and out of the public eye. "I'm not going to say anything about it because I've never seen a relationship benefit from being dragged into the public arena." She added, "We both go out of our way to protect our relationship; I think it's out of experience, but also just out of deep love."