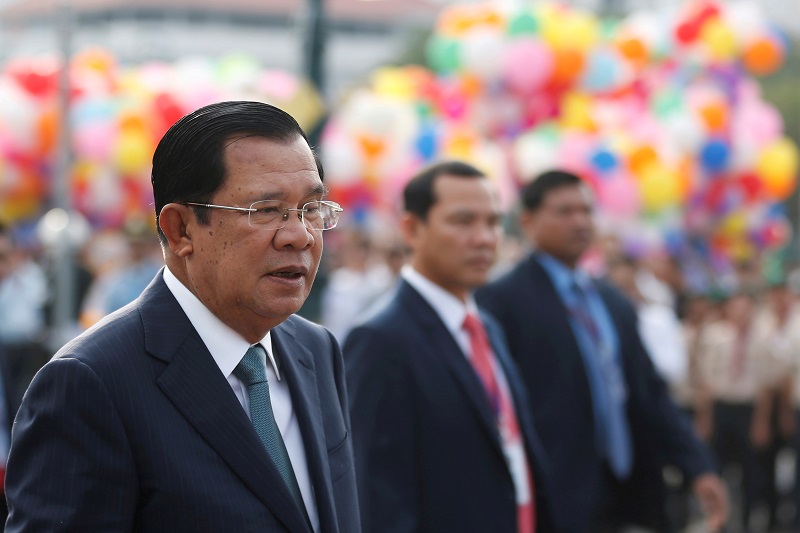 file photo: cambodia's prime minister hun sen attends a celebrations marking the 66th anniversary of the country's independence from france, in central phnom penh
Cambodian PM set to visit Myanmar
Myanmar -Cambodian Prime Minister Hun Sen is set to visit crisis-wracked Myanmar.
However, his top diplomat has warned that the Southeast Asian country is at the brink of a civil war.
Cambodia's approach to Myanmar, in the post-coup scenario, has been condemned by political analysts.
On Monday, the Cambodian Foreign Minister described the outlook in the country as dire.
"The country has all the ingredients of a civil war," he told the PM.
"The security and political crisis in Myanmar is deepening. It has led to an economic, humanitarian, and health crisis," he said.
It merits mentioning that this year, Hun Sen's country holds the rotating chairmanship of ASEAN – the Association of Southeast Asian Nations. The international body has been spearheading diplomatic efforts to put a block to the political turmoil in Myanmar. Last year, the country's military toppled the elected civilian government of Aung San Suu Kyi. The 76-year-old has since been sentenced to a two-year jail term on charges of breaking COVID-19 rules and inciting dissent in a trial her supporters see as politically motivated.
Related Posts
However, the bloc has failed to make notable progress in bringing the country's stakeholders to the table as violence escalates in the country.
At least 1,435 lives have been taken in various skirmishes between security forces and anti-coup protests. Meanwhile, fighting has erupted in the country's border areas between ethnic armed groups, the military, and civilian militias.
Hun Sen's visit aims to create "a conducive environment" for political trust and inclusive dialogue among all parties concerned in a bid to pave the "way for progress".
There are several armed forces; people indulged in a civil disobedience movement and guerrilla warfare around the country.
Several rights groups have alleged that Hun Sen's visit would lead to legitimising the military's rule in Myanmar.